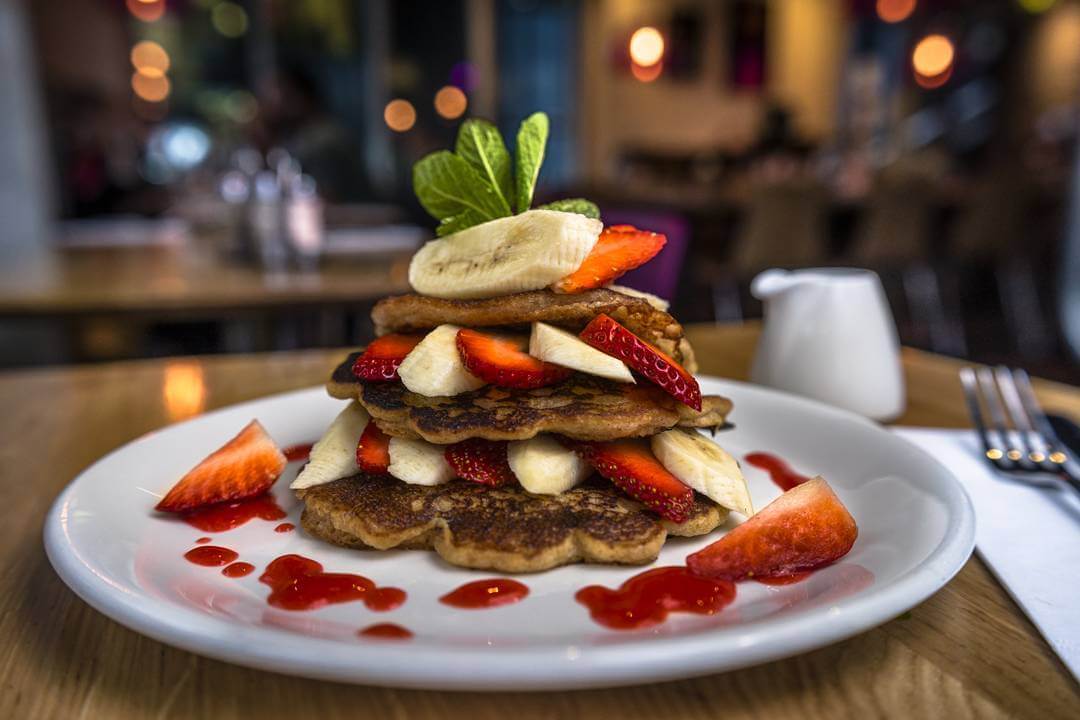 Written by Katherine Sullivan | January 5, 2018
Big Ben, Buckingham Palace, and … killer vegan nosh? It's true—London's vegan dining options are as exciting as the city's hottest sightseeing spots. But which ones are the best? We've got a few suggestions:
The concept behind Cereal Killer Cafe is so brilliant that you'll wonder why every city doesn't have one. The menu features clearly labeled vegan cereals and milks—including almond, soy, and "premium" flavored nondairy milks, such as Creme Brûlée and Salted Caramel—making ordering a breeze.
Vegan, Mexican-inspired street food in London? Oh, yeah, it's a thing. We're talking Loaded Cheezy Nachos, BBQ Pulled Jackfruit Burritos, and Baja To-fish Tacos—all delicious and all at Club Mexicana.
With two locations—one in Shoreditch and one in Croydon—CookDaily will satisfy your vegan needs, regardless of which end of the city you're in. Trust us—you don't want to leave London without trying this restaurant at least once.
There are Costa Coffee shops all over London, which means finding a nondairy latte and vegan mince pie is as easy as … well, vegan mince pie. The chain's varying menu is always introducing new vegan-friendly items, like the Coconut Vanilla Latte—vegan and gluten-free.
No London vacay would be complete without afternoon tea. Thankfully, The Egerton House Hotel offers vegan afternoon tea "with all the traditional trimmings." Enjoy sweets, finger sandwiches, and scones with your tea, coffee, or champagne—just be sure to request the vegan option in advance. Click here to discover 15 other places where you can enjoy an extravagant vegan high tea.
Want that whole wine-and-cheese experience minus the cruelty? FED BY WATER has you covered. Choose from "cheeses" such as ricotta, mozzarella, burrata, and more—all vegan and all scrumptious. Click here to make a reservation.
Want to stay in instead? GreenBay—London's first 100 percent vegan supermarket—has you covered. Shop in store, or order your groceries online. It offers everything from vegan cheeses, nondairy milks, and meat substitutes to desserts, snacks, beverages, and more.
manna's menu—down to the beer and wine—is 100 percent vegan. So go ahead and order the (organic!) bangers and mash.
Whether you find yourself in Soho, Camden, Kings Cross, or Dalston, Mildreds has you covered. Word to the wise: If you stop by the Kings Cross or Dalston locations for brunch, the cocktails are also vegan—and the Southern Fried Mock Chicken and Waffles isn't bad, either.
Vegan crêpes? Yes, please! If you're craving something savory, choose the veggie crêpe with smoked tofu. If your sweet tooth needs satisfying, choose from chocolate banana, banana raspberry, or mango blueberry crêpes. Bonus: nojō's menu is 100 percent gluten-free.
Known for being "London's first vegetarian and vegan pub," Norman's Coach & Horses is sure to make all your vegan-London dreams come true. Vegan menu items are clearly labeled, making meat- and dairy-free dishes—like the Tofush and Chips—easy to spot. Bonus tip: Norman's hosts sing-alongs every Wednesday and Saturday from 7:30 to 11:30 p.m.—"a guaranteed great night out in London."
"Spoil yourself without spoiling yourself!" That's Redemption Bar's slogan, and it couldn't be more spot on. Its menu is entirely vegan, nutritious, and delicious. Head to Notting Hill or Shoreditch to dine in, or have your order delivered straight to your door.
A veg-friendly coffee shop can be a safe haven for traveling vegans, and Vx offers just that. Not only can you get your nondairy caffeine fix, this café also offers vegan groceries. The shop, which is located near Kings Cross Station, even offers daily vegan cake—the perfect sweet treat to pair with your coffee.
Want even MORE vegan London suggestions? Click here to check out PETA U.K.'s vegan guide to the city, and click here to follow Vegans of London on Instagram.
*****
Learn How to Be Vegan Around the World
Booking a weekend getaway? Planning an exotic vacation? Click the button below to get vegan trip tips, and we promise that you'll be living like vegan royalty all around the globe. And don't forget to check out our Vegan Airport Survival Guide, too!
Learn How to Be Vegan All the Time
Whether you're traveling or at home, going vegan is more doable than ever before thanks to PETA's vegan starter kits. Click the button below to request a free kit, and gain access to recipes, tips on making the compassionate switch, and so much more.