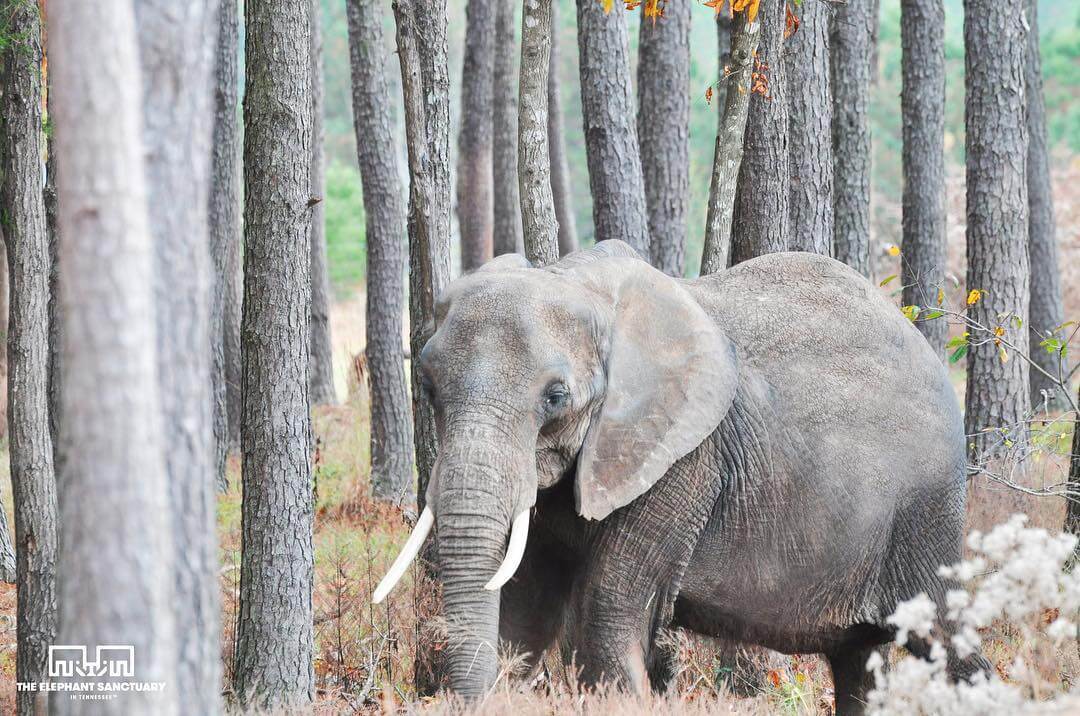 Written by Katherine Sullivan | January 29, 2018
Last week, Lawrence County District Court Judge Angela Terry declared that Nosey the elephant won't be returned to the people who left her chained and swaying back and forth in her own waste.
BREAKING VICTORY: After decades of being chained, neglected, and forced to give people rides, Nosey the elephant will NOT be going back to her abusers. https://t.co/e58X63E3jfpic.twitter.com/taQAD0WJ9r

— PETA (@peta) January 22, 2018
PETA—whose campaign for Nosey started in 2004, when a whistleblower reported that she was being routinely abused with bullhooks and electric prods—is over the moon about the news. And countless other animal advocates took to Twitter to celebrate her freedom from her abusers. Take a look at some of our favorites:
Amazing Victory for #Nosey 🐘❤️! https://t.co/q5Yx5GkItj

— Kristin Davis (@KristinDavis) January 22, 2018
#Nosey the elephant's case got a well-deserved happy ending! After I called on the USDA to investigate her abuse in 2015, Monday's court ruling means she can live our her days abuse-free in an elephant sanctuary. https://t.co/mXfpFubdiq

— Raul M. Grijalva (@RepRaulGrijalva) January 25, 2018
#Nosey is Freed! Now we have to free all wild animals from circuses starting with NJ A1923 sponsored by my partner Champion of animal welfare @RajMukherji#NoseysLawpic.twitter.com/2F2avO9Dtv

— Senator Ray Lesniak (@SenatorLesniak) January 22, 2018
PETA issues statement on Nosey the elephant! pic.twitter.com/yJOmyf8uzP

— Lindsey Connell WAFF (@Lindseyreporter) January 22, 2018
Amazing news! Today a district court in Alabama ruled that Hugo Liebel will NOT regain custody of Nosey the elephant. Nosey will remain at @elephantstn. pic.twitter.com/ePBbbyfb71

— ARFF (@animalrightsfl) January 22, 2018
#Nosey is free!! Judge Terry ruled. OVER THE MOON HAPPY!! 🐘🌴

— Suzi Urell (@SuziUrell) January 22, 2018
#RT Thank you PETA! #Nosey's latest court appearance was 9 hrs ago. Judge officially awards permanent custody of Nosey to Lawrence County. She will remain where she is at the Elephant Sanctuary of TN for good and the Libles will never see her again! pic.twitter.com/HWvv59wu58

— Angels for Elephants (@occupy4eles) January 23, 2018
#Nosey. 🐘🐘🐘🐘🐘🐘🐘🐘🐘 We Love You!!! ❤❤❤❤❤❤ pic.twitter.com/IRhmv87Ot3

— FearlessFireKat (@Kat39745934) January 24, 2018
Sweet #Nosey. ♥️ #elephantshttps://t.co/LECaew03x7

— Kimberly Moffatt (@CompassionKim) January 26, 2018
I am literally in tears!! #NoseyTheElephant won & remains at @ElephantsTN! #Nosey I am so beyond thrilled for you. Countless people advocating for you for years…. and it FINALLY paid off. You won sweet girl!!!! Enjoy every single second of freedom!#Elephant#ElephantSanctuaryhttps://t.co/jyTp8wgoTu

— friend2eles (@friend2eles) January 23, 2018
Shame on every USDA inspector, veterinarian and person who rode or came in co tact with #Nosey and didn't speak up for her. The suffering this elephant did for 38 yes at the hands of #HugoLiebel is disgusting bureaucratic mess. Thank you @elephantsTNhttps://t.co/JRfgToyDcB

— Geri Meyers (@GeralynCfnlvr) January 22, 2018
Justice for #Nosey!! She is freed from her cruel previous owners
at last!!

17 page ruling just came down from… https://t.co/KFOwy6JdTF

— Roar Wildlife News (@RoarWN) January 22, 2018
I want to jump up and down!!! Nosey, you are free!! #nosey#BeKindToElephantshttps://t.co/FGuQdZvfQf

— A Voice for Animals (@BigCatAdvocate1) January 22, 2018
So much thanks to everyone who has advocated for #Nosey the Elephant.

Finally she gets the justice she so deserves. https://t.co/wXNAMVd9YA

— Haze_Sommer (@grm_chikn) January 22, 2018
Great News for #Nosey! She will NOT be going back to owner! 🎉 🙏 https://t.co/pBRQZLUiRa

— March4ElesAndRhinos (@EleRhinoMarch) January 22, 2018
⚡️WOOHOO! #Nosey Can Stay at The #Elephant Sanctuary!⚡️

Tears of Joy as Judge Terry Decides #SanctuaryForNoseyForever
Read The Final Order in Full in our @ActforNosey Toolbox https://t.co/VKFrAziXo7pic.twitter.com/HFQSajW6uT

— Action For Nosey Now (@ActforNosey) January 22, 2018
#Nosey will never be a #CircusElephant again! She will stay at the #ElephantSanctuary permanently. She will receive proper nutrition and have other Ellies to socialize with. Not to mention her own mud and dust baths! @SaveNoseyNow Thank you, #JudgeTerry for your decision today! https://t.co/kQgVuK5Afi

— Earth Animals (@PlanetFirstNow) January 22, 2018
YES!!! #Nosey the #Elephant to remain at the Tennessee Elephant Sanctuary !!!!!! @ElephantsTNhttps://t.co/vPBNZnerL2

— Tilikum&Co. (@TilikumCo) January 22, 2018
#Nosey is FREE!! pic.twitter.com/a4IxDG0bsb

— maureen henriques (@rhinosrhinos) January 22, 2018
Whoo Hoooooo! Judge frees Nosey permanently!! Our girl is FREE! Thanks @SaveNoseyNowpic.twitter.com/V9s9n9EM9d

— Cynthia White 🌊 (@CyntWhite) January 22, 2018
Nosey's road to justice was a long one. Over the years, PETA has persuaded venues not to host performances featuring the suffering elephant, persuaded local authorities to bar her captor Hugo Liebel's elephant act, worked with elephant experts, engaged members of Congress, and obtained celebrity support in favor of her release into an accredited sanctuary where her needs could be met properly. Although Liebel's attorney has threatened to appeal, PETA will continue to push to keep Nosey right where she is: at The Elephant Sanctuary in Tennessee, where she's being given the care and protection that she deserved all along.
The District Court of Lawrence County, Alabama has issued an order in response to Nosey's custody proceedings on December 15. Custody of Nosey remains in place. We are delighted by this progress toward The Sanctuary becoming Nosey's lifetime home. pic.twitter.com/gHXwslhGac

— Elephant Sanctuary (@ElephantsTN) January 22, 2018
Take Action for Elephants Like Nosey
Elephants just like Nosey still need your help. The notoriously cruel Garden Bros. Circus is scheduled to perform at locations across the southern U.S., and we need your help to let the venues planning to host it know about its atrocious record of abuse and neglect.
Whistleblower: Animals Beaten Bloody And Starved at Garden Bros. Circus! https://t.co/TzODQVWDOF#BreakTheChainsBreakTheCycle

— PROTECT ALL WILDLIFE (@Protect_Wldlife) January 4, 2018
Click the button below to ask venues still planning to host this cruel circus to consider the facts carefully and at least require that scheduled performances go forward without animals: