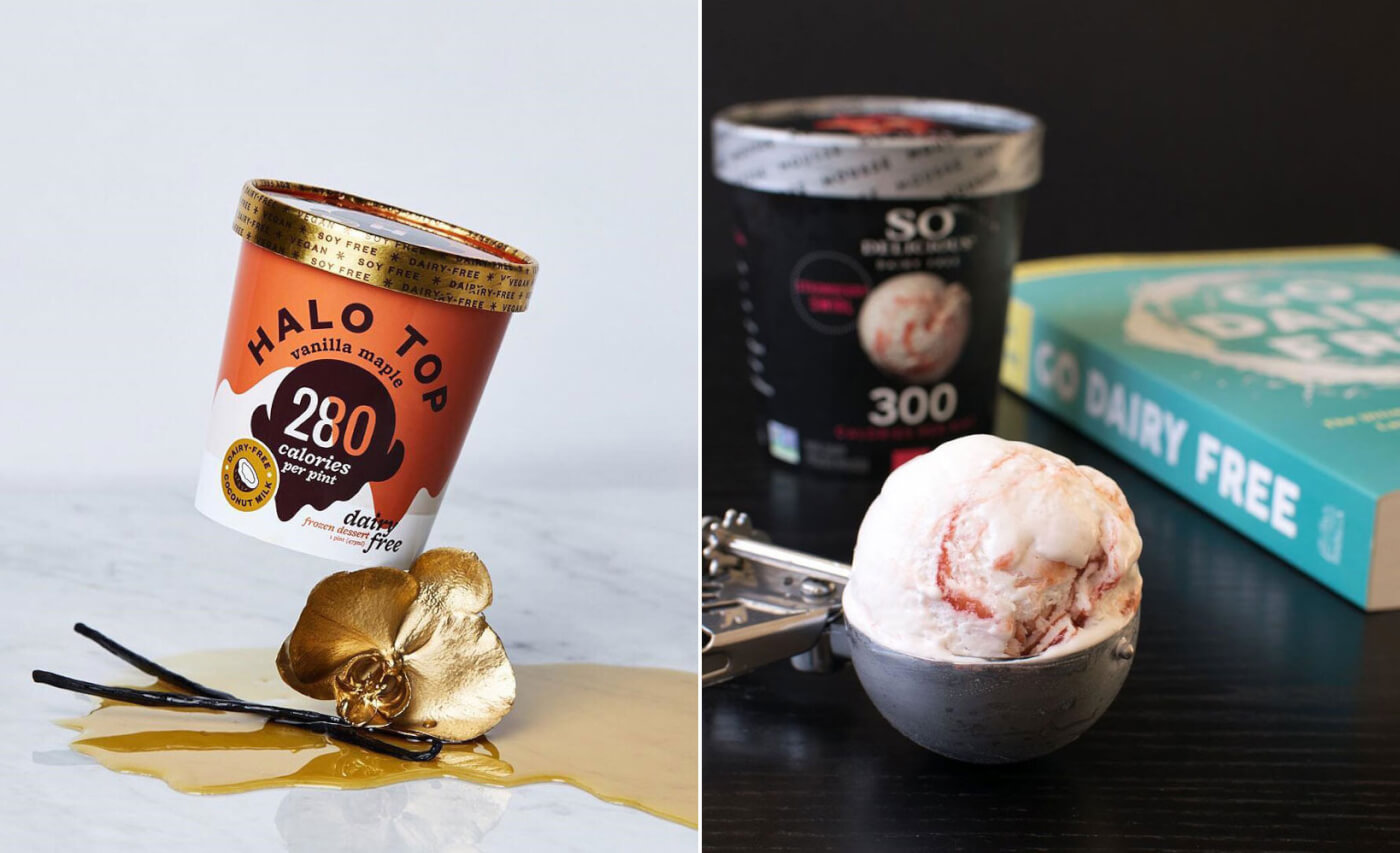 Everyone loves desserts. We just don't necessarily love the calories that most sweet treats come with. Nor do we love ones made with cow's milk or any other cruel, animal-derived ingredient. But now, thanks to a few forward-thinking brands, you can have your vegan ice cream and eat it, too. Brands such as Halo Top have been selling low-calorie ice cream for years, and now, they're giving the people what they want: delicious vegan options. Discover a few of our favorites—all with 360 calories or fewer per pint.
All of Halo Top's vegan pints are made with coconut milk (so they're soy-free) and contain between 280 and 360 calories per pint, depending on which flavor you choose. Options include Caramel Macchiato, Chocolate Covered Banana, Cinnamon Roll, Pancakes & Waffles, Vanilla Maple, and many more. Click here to find out if your local grocery store offers Halo Top nondairy ice cream, or check to see if you live near a Halo Top Scoop Shop.
Like Halo Top, Arctic Zero's claim to fame is low-calorie ice cream. The brand had sold lactose-free ice cream for years but never offered a vegan version—until now. Arctic Zero recently moved its lactose-free line to delicious, animal-friendly nondairy pints that contain 320 calories or fewer. As if that's not exciting enough, its vegan ice creams are now available on Amazon.com and in Publix Super Markets. Choose from Chocolate Peanut Butter, Cookie Shake, Hint of Mint, and more.
So Delicious has been making our vegan ice cream (and other food) dreams come true for years. But now, the all-vegan brand is serving us up something new: low-calorie, creamy, fluffy mousse. And guess what … it's so delicious. At 330 calories per pint, you can finish off a whole container in one sitting if you want (hey, no judgement). Flavors include Peanut Butter Swirl, Chocolate Chip, and more. Click here to find So Delicious' new low-calorie mousse in a store near you.
Three hundred and thirty calories per pint of vegan ice cream is pretty impressive, but would you believe that Wink Frozen Desserts offers 100-calorie pints? Wink uses organic stevia, monk fruit, and protein from yellow peas to create naturally sugar-free products that are both diabetic- and keto-friendly. Flavors include Cake Batter, Cinnamon Bun, S'mores, and many more. Purchase pints online, and have them shipped directly to your door.
*****
Remember: Desserts—even vegan ones—should always be consumed in moderation. The same goes for these delicious nondairy frozen yogurt flavors, which you should check out immediately.