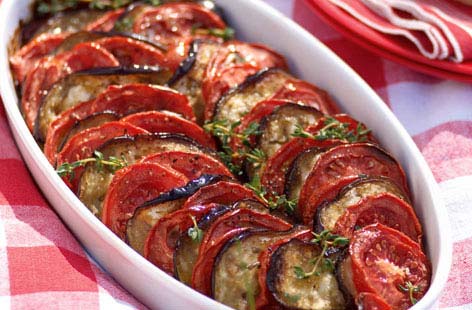 One of the 99 ways we prepare eggplant in Turkey…
Not everyone likes aubergine, I know. But if you do, or if you know someone who does — or if you're willing to try something new…you might like this simple but delicious dish we Turks call Domates Soslu Patlican (Aubergine in Tomato Sauce). I've been making it since I first learned to cook in my late teens — and after I introduced it in the States to my beloved American mother and sister-in-law, it became their 'favorite vegetable dish', bar none.
Aubergine in Tomato Sauce
(Domates Soslu Patlican)
General Ingredients: (I'll use Turkish measurement terms below [see items with the * notation], but you can find plenty of definitions-help on our Turkish Foods page — for converting to US or British measurements.)
4 medium-sized kemer-style aubergines (with a glossy surface, a curved and slender shape — about 20 cm long, dark purple in color, and almost no seeds)
1 green banana pepper (elongated, light green sweet pepper)
1 red banana pepper (also called salcalik or tarhanalik pepper in Turkey — because it's used in the making of tomato paste and tarhana)
For frying the aubergine: half a water-glass* of Sun Flower Seed Oil
For the sauce:
4 medium sized tomatoes, half a yemek kasigi* of tomato paste
1 yemek kasigi* of olive oil
2 yemek kasigi* of vinegar
1 çay kasigi* of salt and one of pepper
Preparation:
Don't peel the aubergine, instead stripe-strip it lengthwise — leaving strips of unpeeled skin evenly spaced down the length of the aubergine's surface, from top to bottom. (This 'stripe' gives the finished dish a more decorative appearance.)
Slice the aubergine lengthwise into two sections. Take each section in turn and slice them lengthwise too — into 2 or 3 long strips each (depending on the thickness of the aubergine). At intervals of 1 cm from top to bottom, cut each of these strips cross-wise into chunks.
Soak the pieces in salty water for 20-30 minutes. (This removes bitterness from the remaining aubergine skin peel.) Remove the pieces from the salty water and after rinsing them again in unsalted water — dry them on paper towels. Clean the green and red banana peppers and slice them in ring shapes.
Heat up the Sunflower Seed Oil in a deep pan and place the aubergine and pepper in the heated oil, cooking until they are quite limp and the aubergine is a medium brown color. Scoop the vegetables out of the oil with a frying spatula and into a dish lined with paper towels. Let dry.
To prepare the sauce:
Pour the olive oil and toss the (coarsely chopped) garlic into a medium-sized sauce pan. Peel the tomatoes and cube them the size of tavla (backgammon) dice. Mix together in the sauce pan with the tomato paste. Add the vinegar and the cube of sugar — and after sprinkling in the salt and pepper, cook over a medium hot flame, stirring frequently.
When the sauce begins to boil, cut the heat way back — and let the ingredients simmer for another 5 minutes.
Pour the sauce lightly over the aubergine and peppers and serve at room temperature — as a meze, a snack, or as a vegetable-dish with a meal.
Article Source: http://EzineArticles.com/292493