Rumors are circulating that April the giraffe might be pregnant again.
Zoo puts April the giraffe on pregnancy watch https://t.co/HoutPo4Jet pic.twitter.com/3tOQcyDDsr

— New York Post (@nypost) June 22, 2018
April's pregnancy and delivery were live-streamed last year from inside her enclosure at Animal Adventure Park, a roadside zoo located in upstate New York. In October, she gave birth to Tajiri, who—like his mother—will spend his life in captivity, being denied everything that's natural and important to his species. Now, the folks at Animal Adventure Park believe that April may be expecting again, and of course, they're seizing the opportunity to make money.
What's So Wrong With Keeping Giraffes in Zoos?
Being confined to a roadside zoo is no life at all for fragile African giraffes, who have prematurely died by the dozens in captivity. Giraffes used for money-making roadside zoo attractions often face the following issues:
They experience distressing transportation.
They don't receive adequate veterinary or even basic care.
They're fed an imbalanced diet.
They're predisposed to peracute mortality syndrome, a term describing sudden, mysterious death.
They exhibit abnormal behavior, such as pacing.
They're exposed to temperatures that their bodies aren't suited for.
They're separated from other giraffes they've bonded with—all for breeding and other management purposes.
Subjecting animals to a lifetime at a roadside zoo means forcing them to endure a lifetime of misery—and possibly a premature death.
Don't Participate in 'Giraffe Cam' Nonsense
Animal Adventure Park's cycle of breeding giraffes for video views and a quick buck is grotesque. If roadside zoos wanted to prioritize animal welfare, they would end these shameful animal-breeding programs.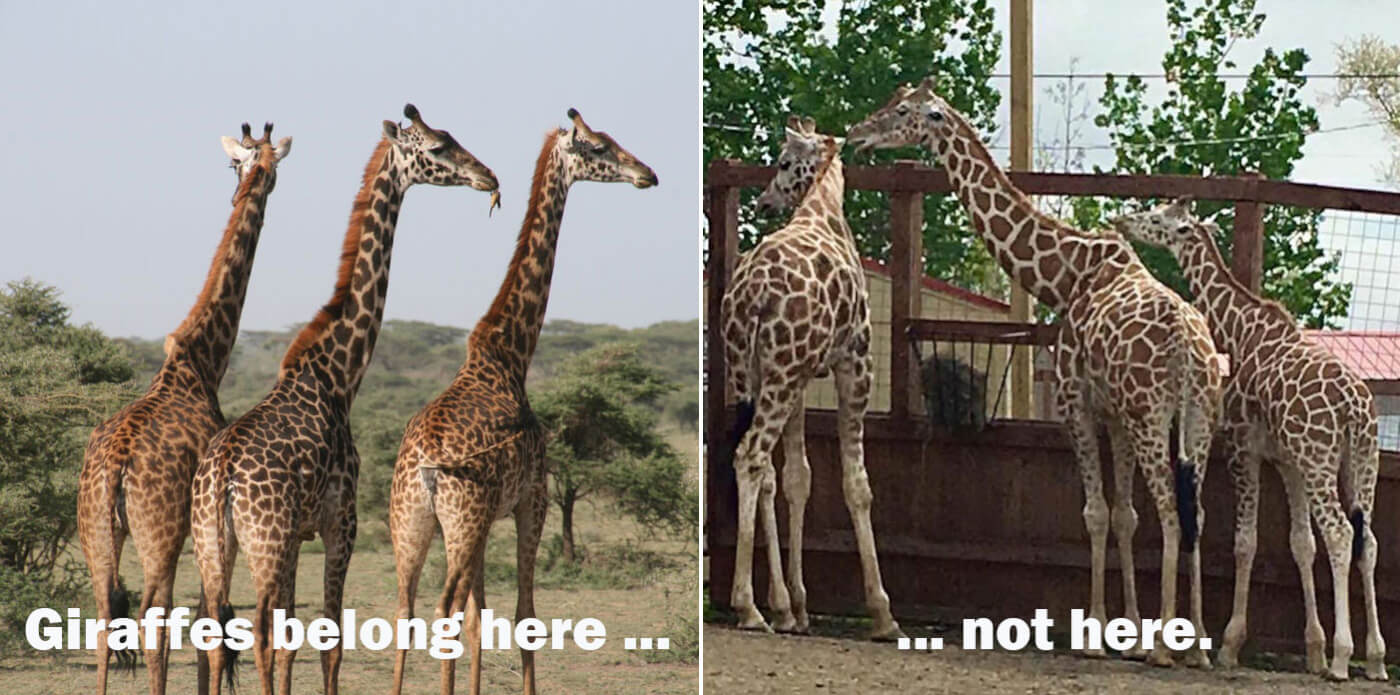 PETA urges everyone who cares about wildlife to support organizations that protect giraffes in their wild homes and avoid any facility that keeps wild animals captive in order to turn a profit.
Share this blog post on Facebook and Twitter to help spread the word: