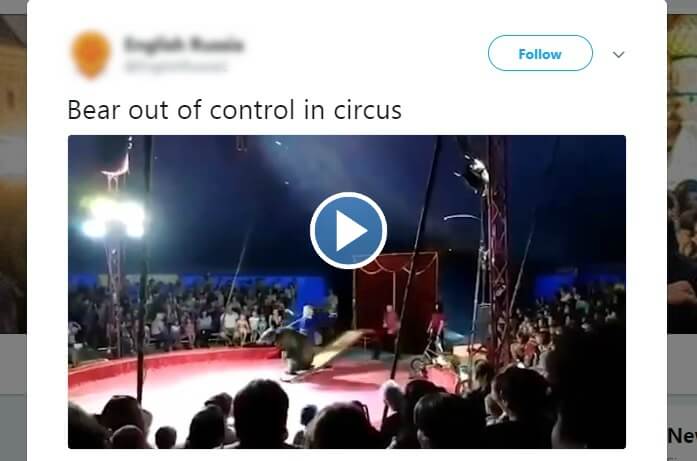 Written by Zachary Toliver | June 21, 2018
Bears don't ride skateboards, do handstands, or balance on balls in nature. So while this viral video from a Russian circus that shows a bear finally tasting a little vengeance is shocking, it's hardly surprising. These are the sort of spectacles that you can help PETA call on exhibitors to end.
Bear out of control in circus pic.twitter.com/Dqnr3Yjawq

— English Russia (@EnglishRussia1) June 17, 2018
In the footage, which was filmed in a village near the Russian city of Volgograd, the bear is seen riding down a ramp on a skateboard and seems to be waiting for the next set of commands when he breaks free from a handler and charges at a man. The bear and the man are seen tussling in the ring while the other handlers repeatedly hit the animal with sticks—but the beatings seem not to deter the attack. Eventually, the man crawls free, and the bear cowers in a corner.
Apparently, the closest row of spectators was mere feet from the bear, without any barrier between them.
Why Are People Surprised When an Animal Finally Snaps?
Time and again, PETA has seen what animals like this bear endure when they're used for entertainment. They're struck, shocked, and whipped to make them repeatedly perform tricks that make no sense to them. They do the stupid, confusing tricks out of fear of the abuse that they'll be subjected to if they don't perform, and when they can't take it anymore, they're beaten for taking action against their tormentors.
You'll never visit a circus with animals again after watching this. pic.twitter.com/4M8le9XAaS

— PETA (@peta) July 1, 2017
Thankfully, the world is becoming aware of the horrendous abuse. Ringling Bros. and Barnum & Bailey Circus shut down after 146 years, Cole Bros. Circus no longer tours, and Kelly Miller and Ramos Bros. circuses ended their wild-animal acts—it's never been clearer that the public is against the use of animals for entertainment.
Help PETA Rescue Bears Today
Right now, PETA is speaking up for bears with action against Castle's Bears—a traveling act that dresses bears in ridiculous costumes, muzzles them, yanks them around on leashes, and forces them to perform demeaning and possibly painful tricks for many Shrine circuses.
If you're disheartened by the plight of the bear in this story and want a better life for animals in similar situations, write to Castle's Bears, and tell it to stop forcing bears to perform confusing tricks and retire them to reputable sanctuaries: