The only way to force elephants to give rides or perform tricks is through violence and domination. So it's no surprise when they snap and strike back. Countless humans and other animals have sustained injuries and even been killed because of these cruel tourist attractions. Take a look at a few of the most recent and shocking incidents, and learn how you can help stop the madness:
Earlier this month, an elephant handler was trampled to death by a captive elephant he was attempting to herd. The incident occurred at Wild Horizons in Victoria Falls, Zimbabwe—a facility that had announced in late 2017 that it was making the compassionate decision to end elephant rides. Forty-year-old Joram Ndlovu and his two colleagues had herded a group of elephants to a spot for grazing—and when the men tried to herd the group back to the stables for "interaction activities," one of the animals charged. The elephant was reportedly euthanized by Zimbabwe Parks and Wildlife Management Authority rangers.
In June, a 12-year-old captive female elephant named Masini trampled her mahout (handler) to death last month, according to reports. The incident took place at a temple in India "in full view of shocked devotees." The animal allegedly crushed the 42-year-old handler, stomping on and trampling him. According to one person, someone pulled hair from the elephant's tail during a worship ceremony, causing her to panic and lash out, which made onlookers flee.
Another trampling death, deliberate & horrific & not a shock. Life of beatings, chains, total lose of freedom the cause. Again. Never be silent about slavery. https://t.co/1ixeEaijX4 pic.twitter.com/LZ65GGFKsQ

— Ingrid Newkirk (@IngridNewkirk) May 29, 2018
On April 15 in Tirunelveli, India, a 35-year-old woman reached out to touch a captive, tied-up elephant during a temple festival. According to reports, the animal snapped and attacked the woman, trampling her to death. Police are reportedly investigating the elephant's mahout (handler), while "veterinarians will check the health parameters of the elephant and conduct an inquiry with the temple authorities and persons available there." The incident is the second of its kind at a temple festival in this region in less than a month.
On April 3, an elephant gored his mahout (handler) to death during "an annual nercha (offering) festival" in Kerala, India, according to reports. The incident reportedly occurred while the handler and two assistants were adorning the animal with ornamental coverings. According to Heritage Animal Task Force General Secretary V.K. Venkatachalam, "The elephant was forced to parade at various churches, temples and mosques during the last two weeks to add attraction to annual festivals without rest." To make matters worse, this is apparently the second time this elephant has killed his mahout. "The first time was at Athirappilly in 2011 during the shooting of a Manirathnam film," according to Venkatachalam.
Just a few days earlier, at a temple in Kerala, India, an elephant forced to give a ride to a priest snapped during a crowded festival. In the video below, the animal can be seen surrounded by a throng of chanting people before getting spooked and running off with the priest atop his back. At least 12 people, including the priest and the elephant's mahout (handler) were injured, according to reports.
Earlier this year, a captive elephant snapped during a religious event at a temple in Kerala, India, killing a mahout (handler). According to reports, four people—including the mahout—were riding on the elephant's back when the incident occurred. In the chilling footage (which can be found below), men can be seen beating the elephant with sticks. Several bystanders were reportedly also injured.
In February, 15 people—children included—were injured and admitted to local hospitals after an elephant "ran amok" at a temple in Kerala, India. During the frenzy, the animal appeared to be trying to get the mahout (handler) off his or her back by shaking vigorously. Other temples in Kerala have wisely stopped using live elephants during rituals and instead use models of the animal.
In January 2018, an elephant was shot and killed in Zambia after trampling and goring a handler. Witnesses claim that the now-deceased elephant, named Dojiwe, trampled animal handler James Tshuma after he and his manager attempted to reprimand her for going into a garden instead of grazing. Of course, for simply defending herself, the elephant paid with her life. Zimbabwe Parks and Wildlife Management Authority rangers killed her shortly after the incident. In addition to lugging humans around on her back, she had been forced to perform senseless tricks for tourists.
In December 2017, a tour guide was trampled to death by a captive elephant at a camp in Chonburi, Thailand. The 17-year-old animal, Plai Uthen, was reportedly being forced to give two visitors a ride when other tourists surrounded him to take photos. According to the Daily Mail, one yanked his tail, agitating him and causing him to charge.
Earlier in the month, horrifying footage was released showing that an elephant calf was beaten so badly that one of the animal's hind legs broke. The abuse occurred while the elephant—who was being used for tourist rides—was tied to a tree.
Elephant calf has its leg BROKEN as workers tame it for use in India's tourist trade https://t.co/DnLOF9LMSy

— Daily Mail Online (@MailOnline) December 4, 2017
According to reports, a German tourist was recently trampled to death by an elephant in Thailand while trying to take a photo of the animal, who lived in an "elephant village." The animal was being forced to give rides at the time of the incident.
Elephant tramples German tourist to death in Thailand. https://t.co/FXt3gPd76T

— Roar Wildlife News (@RoarWN) December 4, 2017
In July 2017, an elephant—forced to give rides at Zimbabwe's Victoria Falls National Park—was shot dead by authorities after crushing a seasoned handler. The enormous bull elephant, Mbanje, was grazing when Enock Kufandada attempted to corral him into a pen. The animal, who had been forced to give rides earlier in the day, charged after the handler and crushed him to death.
Vengeful elephant tramples and 'impales his handler on a stick after holding grudge for years' https://t.co/VDkCPN39wl pic.twitter.com/omkjWSiOnd

— The Sun (@TheSun) July 26, 2017
In June 2017, a group of American tourists visiting Jaipur, India, saw handlers beat an elephant during a tour of Amber Fort. After two elephants tried to escape while being forced to give rides in extremely high temperatures, approximately eight men allegedly hit one of them with sticks for up to 10 minutes. Deeply disturbed by what they saw, the tourists began taking photos, which they posted on social media, and wrote to PETA India, which contacted government officials to urge that cruelty charges be brought against the abusers.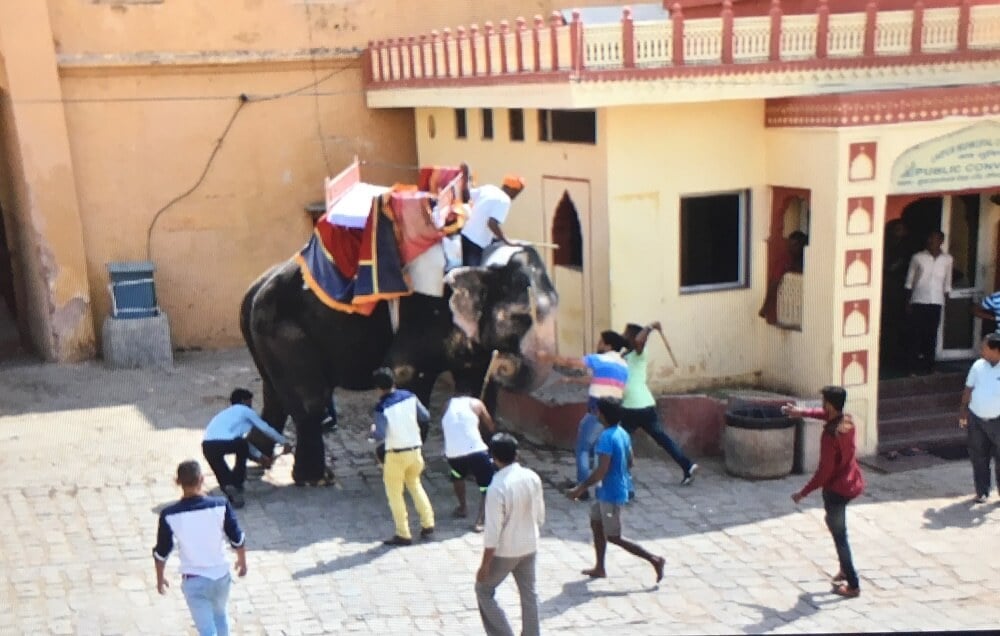 In May 2016, a Sumatran elephant forced to give rides at a zoo in Java, Indonesia, snapped and charged at a zoo veterinarian who was taking pictures. When the woman tried to flee, the desperate elephant reportedly picked her up with his trunk, threw her to the ground, and trampled her. She died from her injuries.
Elephant dies of exhaustion after carrying tourists in scorching heat in Cambodia https://t.co/NsPBR6QkM6 pic.twitter.com/MsvfSm5Il0

— HuffPost UK (@HuffPostUK) April 26, 2016
In April 2016, an elephant named Sambo was reportedly being forced to ferry tourists to the largest religious monument in the world, Angkor Wat, in Cambodia. Temperatures exceeded 100 degrees, and there was no breeze. Overworked and overheated, she succumbed to the punishing conditions and is believed to have suffered a heart attack. She died after collapsing beside a road.
This shouldn't have happened. Overworked elephant drops dead after giving rides in 100°. https://t.co/b2Qu1XDQYe RT! pic.twitter.com/LFRuysPYvK

— PETA (@peta) April 26, 2016
Just a few months earlier, a Scottish man vacationing in Thailand was killed and his 16-year-old daughter was injured when an elephant they were riding snapped. Thailand is the world's largest promoter of elephant camps, where the abusive phaajaan ritual is used to break baby animals' spirits and force them to submit to humans.
Captive elephants have long been subjected to cruelty, causing them physical and mental distress. This undercover footage from a 2014 PETA India investigation shows just how inhumanely elephants in Jaipur—who were forced to give tourists rides—were treated:
PETA founder Ingrid Newkirk dressed like an elephant and was "beaten" by a handler at a popular Jaipur tourist spot—a visual image so jarring that it literally turned heads:
PETA founder Ingrid Newkirk dressed as an elephant and was mercilessly "beaten" by a mahout to show how elephants suffer for tourist rides. You can help elephants. Take action here. https://t.co/FAKSQ0MtSq

— PETA India (@PetaIndia) December 14, 2017
You can join her in protesting the cruel mistreatment of elephants—no chains or costumes required.
Speak Up for Captive Elephants
Elephants are intelligent, self-aware animals. Those held captive in tourist attractions—even ones that are deceptively called "orphanages" or "refuges"—endure heartbreaking physical and psychological abuse that's inflicted in order to force them to give rides, perform tricks, and tolerate direct contact with the public. It's little wonder that so many reach their breaking point.
Animals are NOT tourist attractions. Why elephant rides are bad for humans AND elephants: https://t.co/v8fkGJthkG pic.twitter.com/5nWvcIjhTa

— PETA (@peta) April 3, 2017
Everyone who buys a ticket to ride an elephant or books an excursion involving captive animals is responsible for this merciless cycle of abuse. But you can make a difference. Click the button below to urge companies to end this violence: