Updated November 2, 2018:
The wait is finally over! After advisement from PETA and countless vegan customers, Del Taco has made an animal-friendly move by removing sodium caseinate (a dairy milk derivative) from its rice. That's right—the rice at Del Taco is now vegan.
Hey @DelTaco, when are you getting #vegan rice like @TacoBell did? Or adding a tofu option like @ChipotleTweets's #Sofritas? We wanna see MORE vegan options! https://t.co/AqA0r4drx1

— PETA (@peta) February 23, 2018
Del Taco is quickly becoming one of the country's most vegan-friendly fast-food chains. In addition to its new vegan rice, select Del Taco locations in Southern California have begun offering tempting, protein-packed Beyond Meat tacos in soft and hard shells. Simply order The Beyond Taco or The Beyond Avocado Taco without cheese. At locations that carry Beyond Meat, diners will be able to order the vegan crumbles in place of beef, chicken, and any other animal-derived proteins across the chain's entire menu of existing options.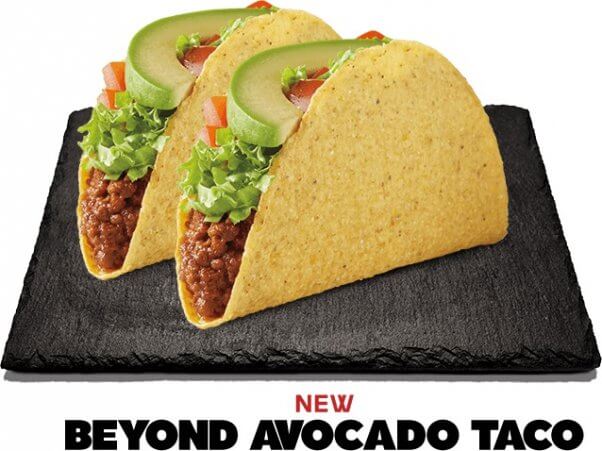 Posted May 3, 2017. A version of this post originally appeared at peta2.com.
Fast-food chain Del Taco, based on the West Coast, is known for its Mexican options, such as tacos and burritos, as well as for American classics like burgers and French fries. The food is quick, delicious, and inexpensive. The best part? The menu is easy to veganize.
Note: The black beans and slow-cooked beans are 100 percent vegan—at all locations. Menu offerings may vary by location.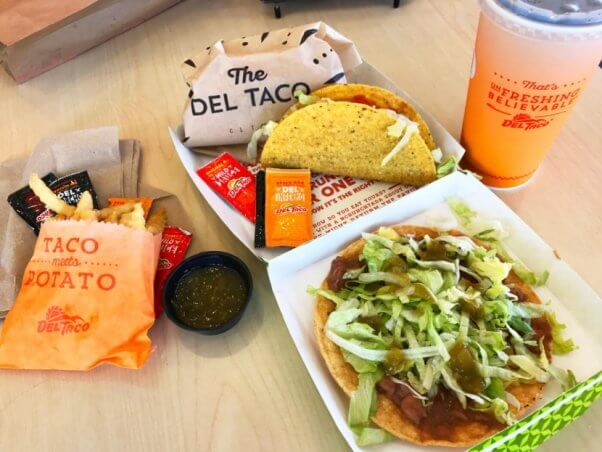 Buck and Under Menu
Value Taco
How to order it: Substitute beans for beef, and say "no cheese." Top it with pico de gallo, green salsa, or any of Del's hot sauces. Add avocado for an additional charge.
Jacked Up Value Bean, Rice & Cheese Burrito
How to order it: Ask for it without cheese. This bean burrito comes with tangy green sauce and lime seasoning. This is a favorite menu item at Del Taco. Add some tomatoes or avocado slices to make it extra-special.
CrunchTada Tostada
How to order it: Just say "no cheese" for this classic crunchy tostada.
1/2 lb. Bean & Cheese Burrito
How to order it: Order this big burrito without cheese. It comes with a choice of red or green sauce. Pro tip: For a little extra money, add French fries to the inside of this burrito for the ultimate experience.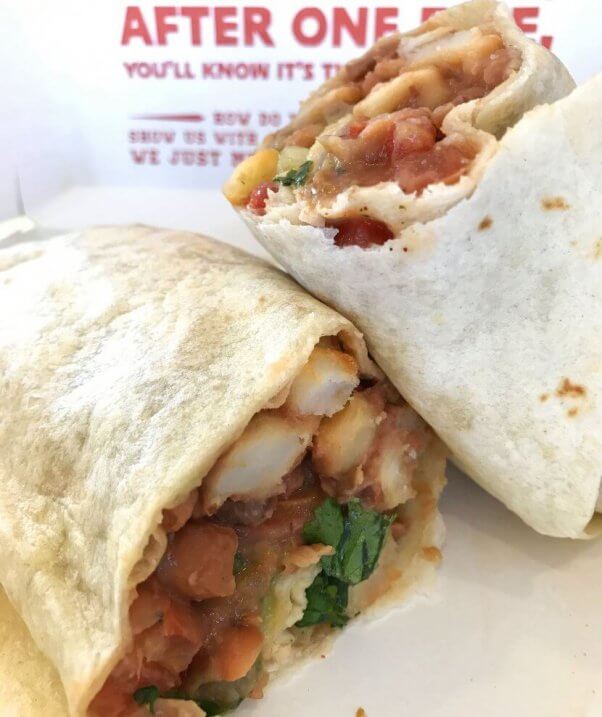 Freshly Made Bean & Cheese Cup
How to order it: Just get it without the cheese. This is a perfect companion for some chips.
Tacos Menu
The Del Taco (Crunchy)
How to order it: This is just like the Value Taco but bigger and crunchier, and it includes lettuce and tomato. Order it with beans instead of meat, and ask for no cheese.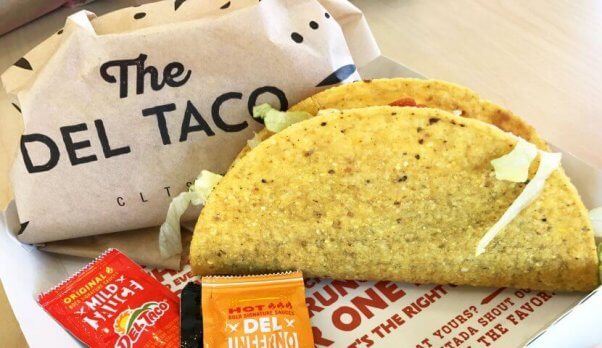 The Del Taco (Soft)
How to order it: Same as the crunchy Del Taco—order it with beans instead of meat, and ask for no cheese.
Burritos Menu
Epic Cali Steak & Guac Burrito
How to order it: You may be skeptical because "steak" is in the name, but give it a try—just get beans instead of steak, and ask for it without sour cream. You'll get an awesome burrito full of beans, crinkle-cut fries, guacamole, tomatoes, onions, and tasty seasonings.
8 Layer Veggie Burrito
How to order it: Ask for it without sour cream and cheese—and you'll be left with six layers of deliciousness.
Handcrafted Salads Menu
Signature Taco Salad
How to order it: Ask for it without meat or cheese. Try adding extra beans.
American Grill
Hashbrown Sticks
How to order it: This breakfast go-to item is already vegan! No special ordering required.
Crinkle-Cut Fries
How to order them: These fries are free from animal-derived ingredients—they're also crispy, warm, and the perfect addition to any Del meal. Need we say more?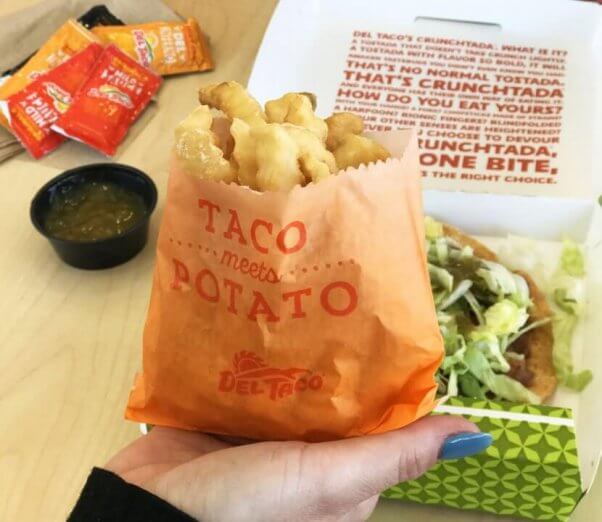 ---
Popular on the West Coast, Del Taco has hundreds of locations across the country—and more are opening all the time. If you're not lucky enough to live near one, you can buy its famous hot sauce online.
Share this guide to help others live compassionately. Check out How to Go Vegan for more information on eating without harming animals.