Written by PETA | September 28, 2018
Big-box pet store chains like PetSmart and Petco have a long laundry list of incidents involving animals who have been traumatized, allowed to escape, severely injured, and even killed in their grooming salons, like Scruffles and Henry: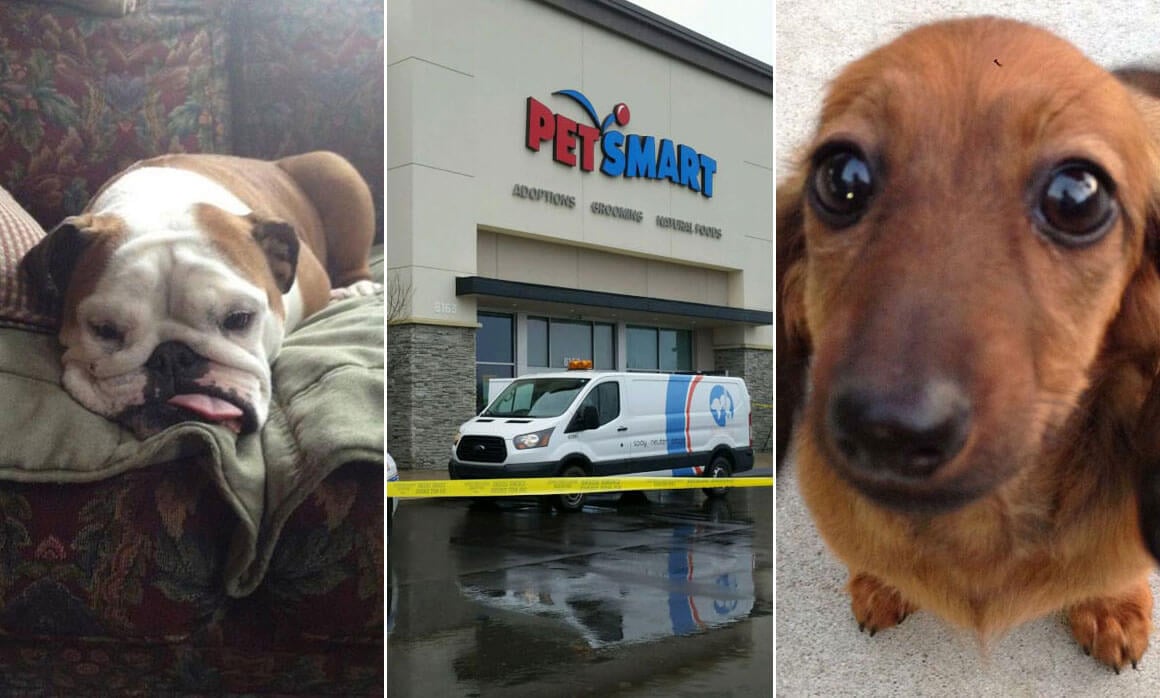 These giant corporations deal in volume. The animals they sell come from cruel mass-breeding mills, where they're crammed into crowded bins; deprived of food, water, and veterinary care; and killed by being bashed against tables or gassed in coolers. The grooming businesses shove animals through quickly and often carelessly. The boarding facilities, like PetSmart's PetsHotel, are just as bad. Many dogs and other animals have become ill or died, often from neglect, after being left at one of these boarding businesses.
Profit is their priority, and as a result, countless animals have strangled after being left unattended on grooming tables; overheated in cage dryers; been badly cut on the ears by clippers; and been screamed at, roughly handled, punched, kicked, and strangled by frustrated, impatient, and abusive groomers at these chains' stores. Let these heartbreaking stories serve as reminders that companionship is not something that can be capitalized upon and that these corporations have no regard for animals' lives, in either their stores windows or grooming salons.
ANIMALS INJURED AND KILLED AT PETSMART AND PETCO GROOMING SALONS AND BOARDING FACILITIES
While PETA has been alerted to countless other incidents and many have gone unreported, here are just some of the many animals whose suffering and deaths in PetSmart and Petco grooming salons and boarding facilities have made the news:
September 2018
Baboo—a 7-year-old shih tzu—reportedly sustained a broken jaw during a September 16 grooming appointment at the Clark, New Jersey, Petco. According to his guardian, Jennifer Fay Collins, prior to the appointment, he was in good health. But when she picked him up afterward, "something seemed off." The groomer blamed it on the vaccinations that Baboo had received the day before. But subsequent X-rays revealed that he had sustained a fractured jaw and needed surgery. According to Collins, Petco staff are still refusing to acknowledge any wrongdoing.
Baboo had to have surgery after a grooming appointment at PetCo, according to his caretaker. https://t.co/lLrk4oyXnl

— Cranford Patch (@cranfordpatch) September 26, 2018
Within the same month, Teddy—a Yorkshire terrier—was taken to a North Texas PetSmart for grooming. The dog, who was reportedly in good health, was said to have left his appointment subdued, weak, and with difficulty breathing. He was dead a few hours later. "I would like to tell anybody that may be taking their dogs up there [the Cedar Hill, Texas, PetSmart] just to be mindful because I didn't know. Something is absolutely wrong," said Tim Daffin, Teddy's guardian.
Texas family's beloved dog had been in good health, but when the dog returns from PetSmart, he seems unusually subdued and even weak. >> https://t.co/0phYrZLWto pic.twitter.com/2XjpBrKhGP

— KPLC (@KPLC7News) September 26, 2018
Not even one week prior to this, a new investigation broke that was conducted by NJ Advance Media. It examined the suspicious deaths of 47 dogs (not counting Teddy) who died during or shortly after PetSmart grooming appointments. Just as PETA's investigations have revealed in the past, this report shines a light on the pet store chain's money-hungry practices and the heartbreaking fatalities they cause.
A nine-month investigation into @PetSmart revealed dozens of cases of dogs dying during or shortly after groomings.

We found secret agreements and allegations of inadequate training and intense pressure to grow profits: https://t.co/0K0anWXSvZ#pets #petsmartgrooming #petsmart pic.twitter.com/pmcY4aMD60

— NJ.com (@njdotcom) September 20, 2018
The 47 deaths that were investigated occurred between 2008 and now—and 32 of them since 2015. NJ Advance Media pointed out in its report that not all grooming-related deaths that occur at PetSmart are publicly reported—so the death toll since 2008 is likely much higher than 47.
"Our investigation finds secret agreements and allegations of inadequate training and intense pressure to grow profits inside the leading U.S. pet retailer," NJ Advance Media reported.
PetSmart employees are reportedly pressured to groom more dogs in less time in order to maximize profits, resulting in fatal errors. According to the new report, PetSmart has attempted to buy the silence of some of these dogs' guardians—offering them money if they agreed to sign a nondisclosure agreement. But guardians are refusing to be silenced. Many shared their stories with NJ Advance Media, each one just as heartbreaking as the last.
Even PetSmart's response to the investigation was telling—despite dozens of deaths, the company is claiming that there's no "systemic problem" here.
Click here to read the full report, and keep reading to discover even more reasons why you should never take your animal companion to a PetSmart.
August 2018
Cynthia Beezer took July—her 4-year-old canine companion—to a PetSmart store in Compton, California, to be groomed. According to reports, July almost lost her tongue after a PetSmart groomer cut it "damn near off." Beezer shared a photo of July in a now viral tweet, saying that the incident occurred while the fur around her face was being trimmed. Of course, PetSmart is blaming the dog, saying that she stuck her tongue out just as the groomer was trimming her face. But according to Beezer, July's tongue naturally always hangs out of her mouth—she said the "unique" trait is even one of the reasons she first noticed her. She called the incident an act of negligence and said that PetSmart groomers should be better trained—but this incident and the slew of horrifying others below prove that guardians should never trust PetSmart with their animal companions.
So we sent our dogs to the compton @PetSmart for grooming & the groomer cut my dog's tongue damn near off when she was trimming her face …. now wtf was the groomer doing that she didn't see a tongue that's ALWAYS there 😪 poor baby, i could only image the pain she in pic.twitter.com/klHsEDQQqO

— bzr ♋️ (@RaeBeeeez) August 11, 2018
In a separate August 2018 incident, a dog named Rufus was dropped off at a PetSmart boarding facility in Tucson, Arizona. A few hours later, the family received a phone call—he had eaten plastic and was being taken to an emergency veterinarian. According to the family, the veterinarian told them that Rufus had been hit by a car on his way to the hospital and had died.
July 2018
According to reports, a 10-month-old puppy named Ziggy was injured during a PetSmart grooming session in Jonesboro, Arkansas. Staff members allegedly told the dog's guardian that he had been attacked by a Great Dane while being groomed. However, the clean, straight laceration and the flap of skin that was left hanging off the small dog's body have led many online to wonder whether that's true. A police report was filed, and an investigation is ongoing. (Warning: graphic images)
In a separate July 2018 incident, Corey Dixon took his 4-year-old service dog, Aspen, to a Toronto PetSmart's PetsHotel for a weeklong stay while he was out of town. But when he returned to pick her up, she was "extremely sick," shaking, and surrounded by vomit and saliva. He rushed her to an emergenandcy animal hospital, where she remained in intensive care for several days.
Aspen is on heavy IV fluids. She was completely healthy before we dropped her off at @PetSmart . She is now extremely sick. This is my service dog, she's helped me so many times and now she's very ill. I'm heart broken, this dog means the world to me. pic.twitter.com/V0ylVpJKHi

— Corey Dixon (@CoreyDixon33) July 9, 2018
Aspen's condition worsened, and when she began struggling to breathe, her family made the painful decision to let her go. It's believed that she became sick while in PetSmart's care and that staff didn't immediately call the vet. "If she'd seen the vet when she started showing signs of being sick, maybe she would have had a better chance," Dixon said. Unsurprisingly, PetSmart denied any culpability.
It is heart breaking to say that Aspen has passed away. My heart is crushed. She was loved by many. The remaining gofundme money will be put towards her remaining vet bills as well as her funeral costs. We will always love you Aspen. Thank you for being there by my side. 😞💔 pic.twitter.com/eQJKizq6pk

— Corey Dixon (@CoreyDixon33) July 15, 2018
May 2018
On May 22, Brandi Villarreal picked up her dog, Lexi, from a PetSmart store in San Antonio, Texas, and found her distressed and breathing heavily. Her tongue was blue, and her gums were purple. After multiple trips to the vet over the next two days—during which time PetSmart called the distraught Villarreal requesting the veterinary paperwork—the previously healthy dog was found to have a consolidation in her chest (fluid in the lungs), likely caused by trauma, and had to be euthanized because of her declining condition.
In a separate May 2018 incident, the Soto family took their little dog, Fabio, to the local PetSmart in Tampa, Florida, to be groomed. Just over an hour after dropping him off, he was dead. The Sotos got a call from PetSmart telling them that their dog was unresponsive and they needed to come back to the store immediately. Workers reportedly brought over the veterinarian from the on-site Banfield Pet Hospital, but the dog went into cardiac arrest, and the vet wasn't able to save him. Then, according to the family, PetSmart offered to buy them a new dog—but with a caveat: They would have to sign a nondisclosure agreement prohibiting them from discussing their experience with media outlets. The family declined the offer, and a necropsy report later revealed that Fabio had heartworms and cited stress as a factor contributing to the cardiac arrest.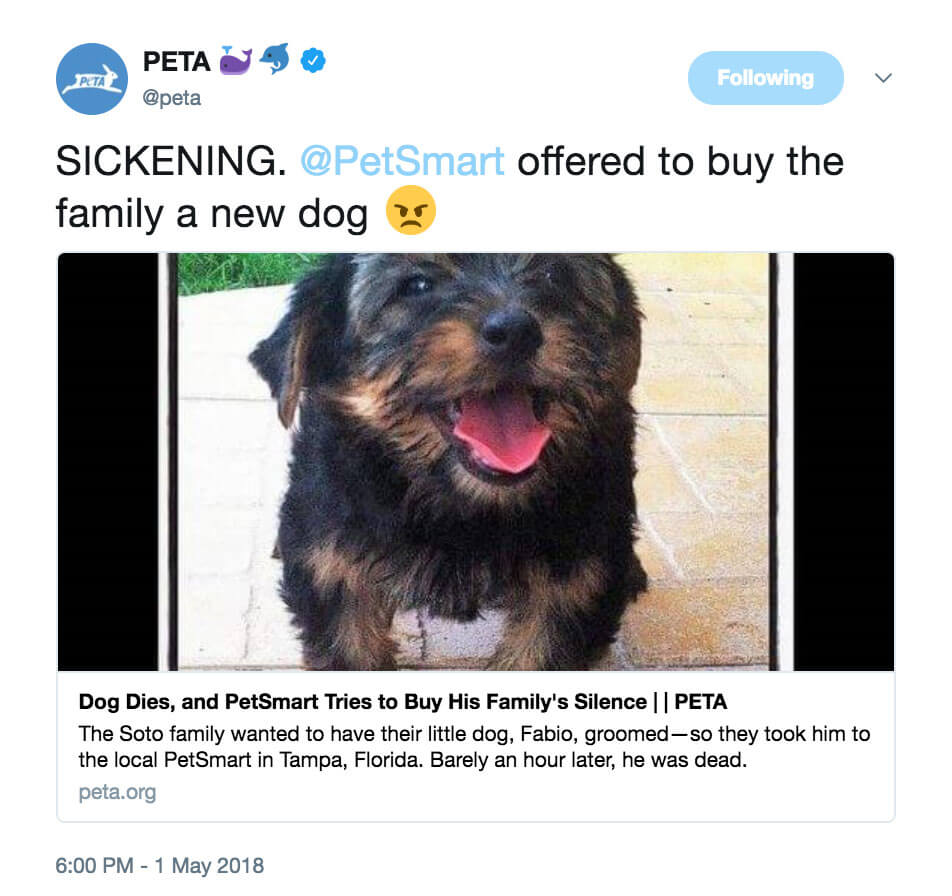 April 2018
Ollie, a 4-month-old Maltese mix, sustained a broken leg during a grooming session at a Petco in San Antonio.
March 2018
Oliver Buttons, an 18-month-old cairn terrier, needed stitches for lacerations to his face and neck as well as surgical glue for nicks all over his body inflicted by a Petco groomer in Appleton, Wisconsin.
A cat named Cloudy died during a grooming session at a Petco in Providence, Rhode Island.
Abby, an 8-year-old corgi, died during a grooming session at a PetSmart in Toms River, New Jersey.
February 2018
A PetSmart groomer in Houston was fired after a video of her violently handling a small dog went viral.
December 2017
At least two dogs allegedly died, and a third sustained a back injury, after being taken to a New Jersey PetSmart for grooming. Just over an hour after his guardian dropped him off, Scruffles, a healthy 8-year-old bulldog, was reportedly taken to a veterinary hospital, where he was dead on arrival. The store apparently refused to give any information regarding what took place during his fatal grooming session.
An 8-year-old shih tzu named George allegedly returned home in extreme pain and arching his back. Veterinarians found that he'd sustained a back injury and prescribed him heavy steroids and 10 days of cage confinement.
Another dog, named Ranger—who was reportedly lethargic after returning home—died two days later on Christmas Eve. His heartbroken guardian had to break the news of his death to her children on Christmas morning.
July 2017
Michigan resident Allison Yates and her husband claimed that Beauvine, their 7-year-old Great Dane, lost 28 pounds in the nine days he spent at a PetSmart PetsHotel in Rochester Hills. The couple said that they chose the PetsHotel because the facility offered soundproof rooms and private time, and their dog has a nervous temperament. According to Yates, PetSmart called four days into Beauvine's stay to report that he had diarrhea and had vomited. Had she known the severity of his condition, Yates said, she would have returned home immediately.
The couple claims that when they dropped Beauvine off at the PetsHotel, he weighed 138 pounds, but when they picked him up—nine days later—he weighed only 110 pounds. They also said that their veterinarian informed them that Beauvine was dehydrated and appeared to have "been neglected for a week."
March 2017
Ollie, a 5-year-old pug in Newport, Rhode Island, died after a grooming session at Petco. E.J. Finocchio, president of the Rhode Island Society for the Prevention of Cruelty to Animals, said that it was clear the Petco technicians were not trained to deal with an emergency. "It's very troubling here, what happened," he said. "We have an otherwise healthy dog that goes to have his nails clipped, and he ends up dead, and there's not much we can do about it."
When Pepper got home from a grooming session at a La Quinta, California, PetSmart, she wasn't acting like herself. Her guardian immediately took her to the vet, who found that the dog had ruptured blood vessels as a result of "some sort of trauma." While PetSmart denied wrongdoing, it paid for Pepper's vet bills.
August 2016
When Demon's guardian came to pick him up from a grooming session at an O'Fallon, Illinois, PetSmart, she immediately noticed that he had labored breathing. He was rushed to the vet, where it was discovered that his temperature was over 103 degrees. Within 20 minutes of arriving at the vet, he was dead.
June 2016
When 5-year-old Casper was taken to a Petco groomer in Moses Lake, Washington, his guardian, Desiree, had no idea that he'd never make it back home. Instead of getting a call from the store to let her know that her dog was ready to be picked up, she got a call informing her that he was "non-responsive" and being taken to the vet. Sadly, he passed away.
May 2016
A dachshund named Henry reportedly died after being taken to a California PetSmart for a routine grooming session, and an employee was arrested on suspicion of felony cruelty to animals. According to reports, just minutes after Henry was dropped off for a haircut, employee Juan Zarate emerged from the grooming office with the dog, who was bleeding from the mouth and having difficulty breathing, and took him to an on-site veterinarian. He was said to have died shortly after the vet began treatment, still in the store. His guardian may never know exactly what happened in the back room of that PetSmart store, but a necropsy revealed that the dog had sustained two broken ribs and a punctured lung and died of strangulation.
"Henry" died allegedly while under care at PetSmart on the Peninsula. Employee arrested pic.twitter.com/6zrqGkgFrM

— Damian Trujillo (@newsdamian) May 17, 2016
April 2016
Shortly after Buff, an 11-year-old golden retriever, went in for grooming at a Poway, California, Petco, he began to have trouble walking and developed an infection. Soon after, he died.
March 2015
An employee of an Atlanta Petco was fired after reportedly being caught on a cell phone video violently yanking on a dog's paw and shoving the terrified animal around on a grooming table while trying to clip his or her nails.
July 2014
When Sierra was taken to a Beckley, West Virginia, PetSmart for grooming, she came home with razor burns and a cut on her foot pad that needed suturing. PetSmart paid for the dog's vet bills.
July 2011
A California woman reportedly sued Petco after her dog Sadie suffered from heat stroke, internal bleeding, and burns when a groomer left her locked inside a cage dryer. Sadie had to be euthanized because of the extent of her injuries.
If it isn't possible to groom your animal companions yourself, hire a groomer who makes house calls, and insist on staying with them at all times during the process. Groomers who have nothing to hide should welcome your presence, and it'll help your animal companions to feel at ease, too.
Always thoroughly research and screen potential groomers, and don't hesitate to get your animal companions and leave if something seems suspicious or "off." Here are more tips on finding a reputable groomer:
Choose veteran groomers who are confident in their skills, recognize their own limitations, and are knowledgeable about animal behavior. An experienced professional will know the individual needs of different types of dogs. For example, elderly dogs may have heart problems, and some breeds may have breathing issues. All these factors are of special concern when it comes to bathing, drying, brushing, and clipping. If a groomer appears to be afraid of or impatient with animals, take them elsewhere.
Consult the Better Business Bureau regarding groomers you're considering using, and do Google searches to see if any patrons have encountered problems with them. Look on Google, Yelp, and other review sites for comments from previous and current customers.
Request references from other clients.
Use a groomer who is a graduate of a training program and a member of a trade organization. Although groomers aren't required to be licensed, an affiliation with groups like the National Dog Groomers Association of America, Inc., can indicate experience and professionalism. Evidence of participation in industry seminars is also a good sign.
If, despite all your precautions, your animal companion is injured by a groomer, you can file a small-claims suit or a lawsuit against the groomer or salon. You can also warn other animal guardians not to patronize the groomer by sharing your story with local television stations and newspapers.
You can apply many of these same rules when choosing a sitter for your animal companion. Your best bet is to select someone you know personally and trust, such as a relative, close friend, coworker, or neighbor. Be sure that the person you choose likes and is comfortable around companion animals. It's best to have the person come to your house at least once prior to your trip so that he or she can meet and get acquainted with your animals. Click here for more tips on finding the right companion-animal sitter.
Remember, you're your animal companions family members' advocate and protector. Never just hand them over to service providers while simply hoping for the best.
Help us spread the word by sharing this article with your friends and family:
Pledge never to buy pet supplies from retailers that sell any animals. Let PetSmart officials know that you'll shop at businesses that don't sell animals—such as Target, Walgreens, or online retailers—instead: