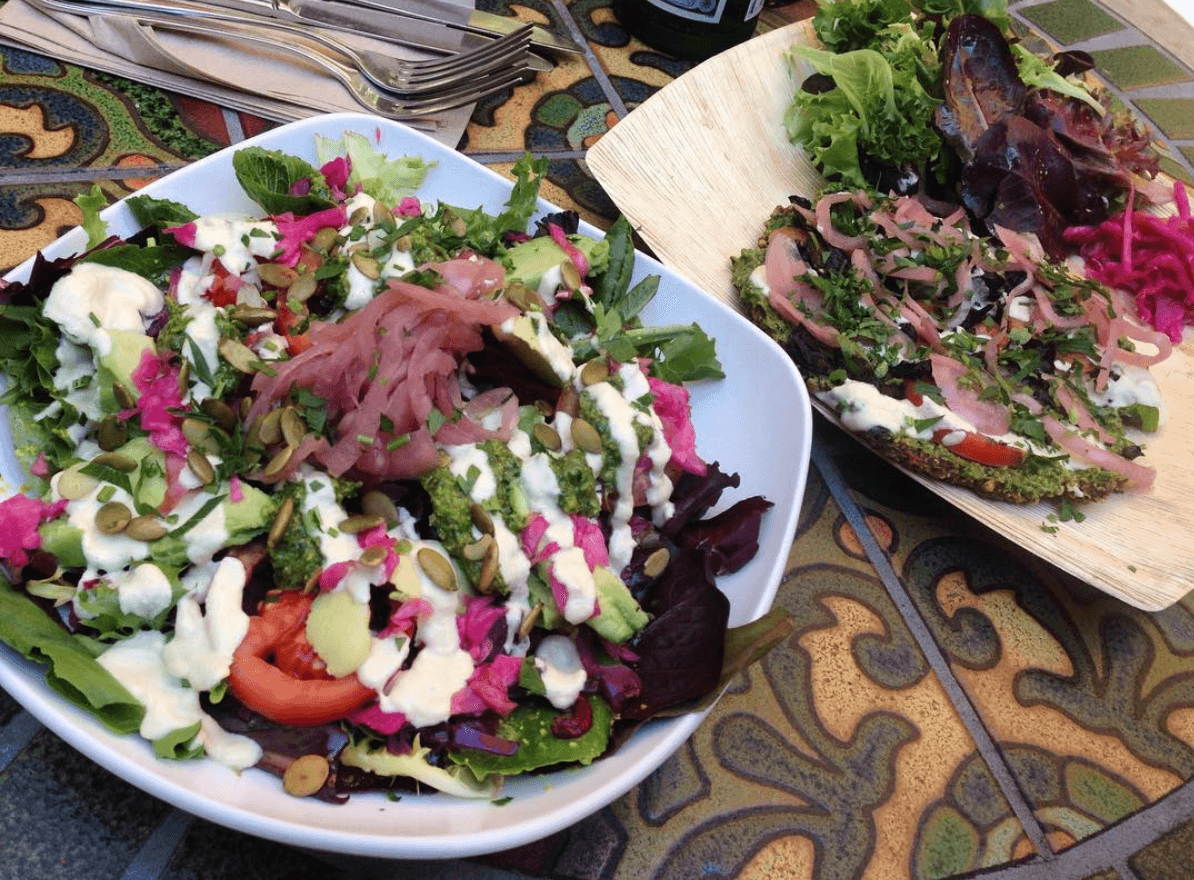 A vegan road trip up the California coast, anyone? With its stretches of sandy beaches peppered with quaint towns along the 101, California's Central Coast offers delicious vegan eats like tempeh tacos and smoothie bowls in Ventura, Santa Barbara, Santa Cruz, and more.
Animals like dolphins and fish (and even elephant seals in San Simeon) are frequently seen living in their natural environments in these areas, too—a good reminder to all that that's where they belong, not at SeaWorld or on plates.
Ventura
Just an hour or so north of Los Angeles, Ventura is chock-full of beaches and breweries. Recent arrivals with a plethora of plant-based options such as Harvest Cafe, Caribbean Haven, and Sea Ranger Seafood Station have invigorated the local vegan scene, which includes longtime favorites like Norte-Sur Mexican Grill.
Harvest's mission is "to serve the healthiest possible cuisine from local, sustainable, and environmentally conscious sources." Its rotating daily specials board often boasts plates like cashew cheese enchiladas, Buddha bowls, and vegan mac and cheese, while the mainstay menu includes savory waffles and smoothie bowls.
Sea Ranger's menu is half vegan and includes fried vegan fish and chips, vegan chili cheese fries, vegan crab cakes, vegan sushi—you get the picture.
Sea Ranger's neighbor Norte-Sur Mexican Grill offers vegan chile relleno, nachos topped with creamy vegan cheese, and plenty more: Nearly half the menu is veganized versions of classic Mexican fare.
And newcomer Caribbean Haven offers a handful of authentic island cuisine dishes that are animal-free, such as red bean and squash stew, curries, and eggplant choka.
Ojai
Do yourself a favor and pop into this adorable—and quite spiritual—little town just north of Ventura in the Topatopa Mountains for raw vegan pizza at Food Harmonics, rotating daily specials at The Nest, or house-made cashew cheese–topped vegan sopes at Farmer and the Cook.
Farmer and the Cook also offers plant-based huaraches, breakfast burritos, and raw tacos for brunch. In the evening, return for specialty vegan pizzas after witnessing the "pink moment."
And if you're in need of coffee and a pastry, you'll want to stop by Beacon Coffee, where the almond milk lattes are perfection and there's always a vegan option from in-house baker SunOven, like a gluten-free cinnamon roll or doughnut.
Santa Barbara
Your first stop in Santa Barbara needs to be Mesa Verde. This organic, mostly vegan restaurant (where almost everything either is vegan or can be made vegan) offers many locally harvested items and gluten-free options as well. The menu is seasonal, and the plating and flavors are always on point. Try a brunch bowl or latkes in the morning and a flatbread pizza topped with macadamia ricotta or a cashew cheese board at dinner—and don't forget the polenta fries.
Another stop in Santa Barbara should be Green Table, a bright, more casual eatery with a similar style: organic, local, healthy, gluten-free, and almost all vegan. Try one of its many delicious juice blends or the Vegan Veggie Parm burger.
You can also try the vegan Range-Free burger from Hungry Planet (check out our fast-food copycat burger recipe using it) at restaurants throughout Santa Barbara, including Shoreline Cafe and Benchmark eatery.
San Luis Obispo
San Luis Obispo has seen a serious uptick in animal-free options in the past few years. For all things vegan in the area, check out the SLO Vegan guide. If you're quickly popping into town, be sure to stop by the 100 percent vegan, peaceful creekside dining experience that is Bliss Cafe and try one of many protein-packed Bliss Bowls or an avocado-topped tempeh Reuben sandwich.
Morro Bay
Every vegan knows—or should know—Morro Bay for one key reason: Shine Cafe! This adorable all-vegan joint has the biggest hippie tempeh-quinoa tacos you've ever seen, and they come topped with avocado, as any good California taco should. The giant vegetable spring roll with ginger dipping sauce is also highly recommended.
Santa Cruz
One spot that's a must in Santa Cruz is the longstanding Saturn Cafe. Saturn boasts quirky decor and delicious all-vegetarian diner food that's mostly vegan—like veggie burgers, weekend brunch pancakes, dairy-free milkshakes, taquitos, and potato tacos. For more animal-free delicacies, check out peta2's complete guide to eating vegan in Santa Cruz.
Learn How to Be Vegan Around the World
Booking a weekend getaway? Planning an exotic vacation? Check out our guide to get vegan-trip tips, and we promise that you'll be living like kind royalty all around the globe. Our vegan airport survival guide is a must-read, too.