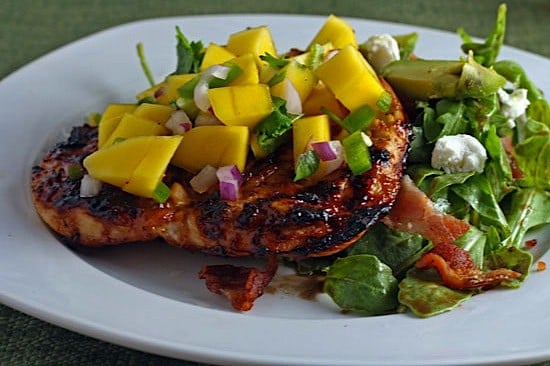 Two favorites on the island of Barbados are fish and mango. This dish is the best of both in the Bajan world. Enjoy this dish on a cool summer evening with a glass of wine, or with friends for a backyard get-together.
This recipe is a favorite at Food Affairs, prepared by Chef David Watts.
Ingredients:
4 marlin or dolphin steaks, or other meaty fish, cut 1″ thick, brushed with olive oil and pressed garlic, and seasoned with salt and pepper.
For the barbeque sauce:
1tbsp olive oil
1/2 onion, diced
1/2 hot pepper, seeded
1/4 cup pureed mango
2 tbsp Worcestershire sauce
1/4 apple cider vinegar
1 tbsp Dijon mustard
1/2 cup brown sugar
1 cup beef stock
1 tsp Tabasco
1 pinch salt
1 cup beer
In a large saucepan, over high heat, saute onions and pepper in oil. Add remaining ingredients, bring to a boil then simmer over medium/low heat for 30 minutes. Puree sauce in a blender or food processor.
If using a barbeque grill, heat for 10 to 15 minutes on high. Or, if using a grill pan or a frying pan, heat to medium high. Sear the fish for 4 to 5 minutes per side, or until almost completely opaque. Brush 3/4 of the barbeque sauce onto both sides and grill an additional 1 minute per side. For those who prefer their fish medium rare, reduce cooking time to 3 1/2 minutes per side. Top with the reaming sauce and serve.
Article Source: http://EzineArticles.com/169451