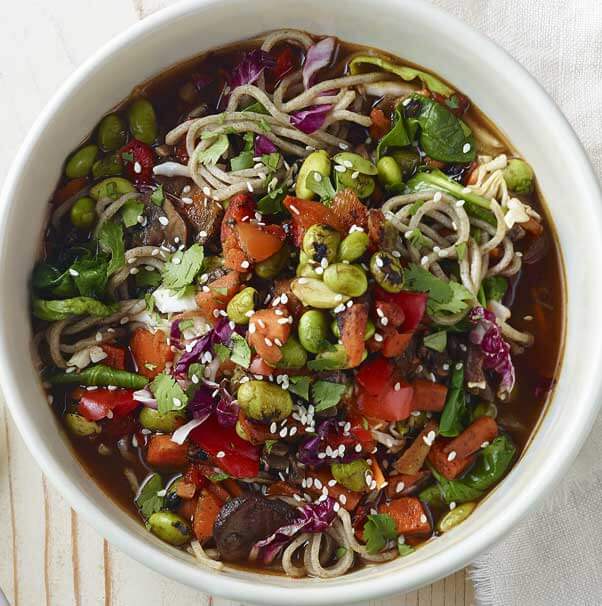 Written by PETA | January 9, 2018
Following encouragement from PETA, Panera Bread has expanded its vegan offerings to include two new broth bowls. The Vegan Lentil Quinoa Broth Bowl features organic quinoa and brown rice, a lentil blend, tomato sofrito, and fresh kale and spinach in umami soy-miso broth. The new Soba Noodle Broth Bowl with Edamame Blend is packed with soba noodles, fresh spinach, Napa cabbage, roasted mushroom and onion blend, sesame seeds, and cilantro.
We're already swooning, but there's more: Panera is now offering its vegan Black Bean Soup daily!
More vegan options like falafel, tofu, and vegan chocolate cake are currently being tested in select locations. If you see one of these delectable menu items, snatch it up!
Here are all of Panera's vegan menu items in one place for you:
Baked Goods
Bagels (Plain, Blueberry, Cranberry Walnut, Poppyseed, or Sesame)
Focaccia (Black Pepper or Sea Salt)
French Baguette
Hoagie Roll
Semolina (Country, Rye, or Sesame)
Sourdough Breads
Breakfast
Peach & Blueberry Smoothie with Almond Milk
Seasonal Fruit Cup
Steel Cut Oatmeal with Apple Chips, Pecans, and Cinnamon Crunch Topping
Steel Cut Oatmeal with Strawberries, Pecans, and Cinnamon Crunch Topping
Broth Bowls
Soba Noodle with Edamame Blend
Vegan Lentil Quinoa
These come with your choice of sides.
Salads
Seasonal Greens (You can add avocado and quinoa.)
Soup
Note: Panera may offer vegan soups seasonally, so ask your specific location for current options.
Customize these menu items to make them vegan:
Salads
Order any salad without chicken and cheese and add quinoa.
Order the Ancient Grain & Arugula with Chicken without the chicken.
Order the Fuji Apple with Chicken without the chicken and Gorgonzola.
Order the Greek or Modern Greek with Quinoa without feta cheese.
Sandwiches
The Mediterranean Veggie can be ordered without feta on a vegan bread option.
For more news-you-can-use, check out our Guide to Ordering Vegan at Fast Food and Chain Restaurants.
Want to go vegan? Order our free vegan starter kit today!