Hundreds of activists stormed the streets of New York City for the annual Official Animal Rights March to speak out against animal oppression—which included a chant to get horses out of city traffic.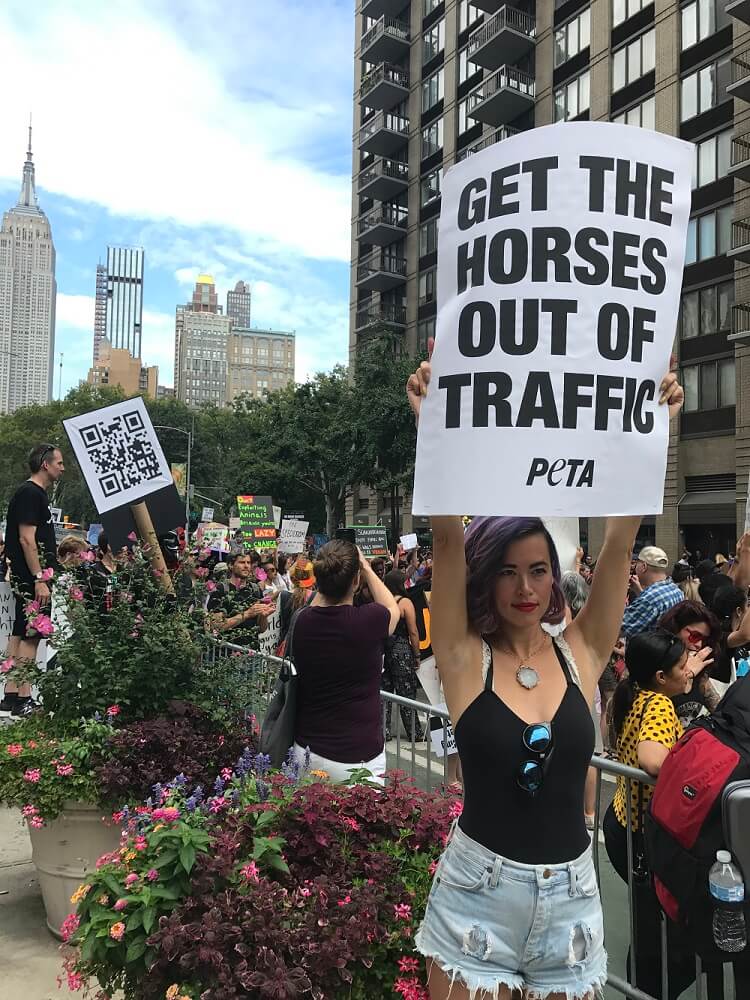 During the event, PETA Senior Vice President Dan Mathews spoke in support of Mayor Bill de Blasio's executive order to restrict the horse-drawn carriage lines to Central Park. Most of the 1,500 activists followed Mathews' lead in a chant demanding that the city "get the horses out of traffic."
Horses don't belong on crowded streets! Moving horse carriages out of #NYC's Midtown traffic & into #CentralPark is an encouraging first step. https://t.co/tkJ6bCXauQ

— PETA (@peta) August 30, 2018
Just days before the march, the Department of Transportation (DOT) submitted new draft rules that would move horse-carriage pickups to five designated areas inside Central Park. Moving horse-drawn carriages out of the city's midtown traffic would certainly be an encouraging step forward.
In addition to speaking out against horse-drawn carriages, Mathews and others highlighted recent breakthroughs in animal liberation, including that vegan eating is the top food trend across the country.
"This march shows that more people than ever are helping animals by going vegan; ditching fur, wool, and leather; and rejecting products tested on animals and the use of animals for entertainment—whether at SeaWorld or in the cruel carriage trade," said Mathews.
Horse-drawn carriages are deadly hazards on 21st century streets.
If you're a tourist and you find yourself needing transportation in an unfamiliar city, choose a human-powered pedicab, rent a bike from a bike-share service, or simply walk. A carriage ride may be a fleeting moment of entertainment for you, but it supports a lifetime of torment and forced labor for horses.
We've seen everything from pools of blood left by a horse forced to pull a carriage while injured to a runaway horse who drowned in an icy river while attached to a sinking vehicle. Horse-drawn carriages are simply accidents waiting to happen.
They keep horses in upper floors of buildings?!

9 Terrifying Horse-Drawn Carriage Photos: http://t.co/IgXEiB5s1G pic.twitter.com/ucmr8a6NN4

— PETA (@peta) March 26, 2015
Many accidents, injuries, and even deaths—involving both horses and humans—have occurred after the animals became spooked in traffic. Just like humans, horses experience anxiety and fear. In a split second, one can go from appearing calm and sedate to crashing blindly through busy streets in a panic.
What You Can Do
Let officials know that you support restricting the operation of horse-drawn carriages to within Central Park. Submit supportive comments to the DOT by e-mailing [email protected] or calling 212-839-6500.
If you live in the New York City area, please attend the DOT's public hearing and testify about the reasons why you support the proposed ruling. The hearing will take place on October 3 at 1 p.m. in the DOT Bid Room at 55 Water St., Concourse Level, New York, NY 10041. Click here for more information.