A short video in which a goose screams in pain as his or her feathers are ripped out by the fistful: That's all it took to persuade actor, model, and activist Mena Suvari to ditch down forever.
I admit I had NO idea. But after watching this DISGUSTING DISGRACEFUL… https://t.co/CRENJK51Kn

— ᴍᴇɴᴀsᴜᴠᴀʀɪ (@MenaSuvari) September 21, 2017
You can HEAR this goose cry out in pain 😢 Ask @BedBathBeyond to STOP selling down products! https://t.co/XWJBjL6Hlm pic.twitter.com/CSN8oXIKWn

— PETA (@peta) September 20, 2017
A committed vegan who buys only cruelty-free cosmetics, Mena had never seen the suffering behind every pillow, comforter, and jacket stuffed with down feathers. The second that she did, she immediately trashed every down-filled item in her home and began searching for compassionate alternatives.
…THIS is what happens NEXT! Please educate yourselves and support! Go #downalternative 👌🏼
Thank you @peta for opening my ashamed eyes🙏🏼 pic.twitter.com/YMlof3XFgT

— ᴍᴇɴᴀsᴜᴠᴀʀɪ (@MenaSuvari) September 21, 2017
She was clearly still shaken up by the cruelty that she had seen when she sat down with PETA to discuss her decision to stop buying down. In the video below, she encourages everyone to inform themselves about the suffering of birds used for down. Watch her powerful testimonial now:
Mena also posed for a stunning new print ad urging people to spare birds a terrifying life—and death—by refusing to buy anything made with down.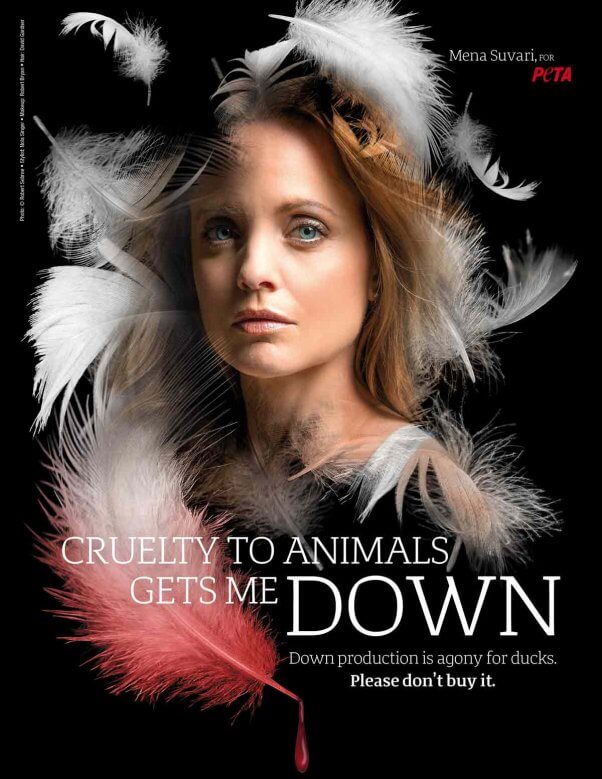 Sleeping on and under soft, warm down alternatives is a bed of roses for this American beauty.
From bedding to outerwear, down alternatives are easy to find. If you, like Mena, don't want to support the cruelty of the down industry, check out these great down-free coats for men and women. Then, share her story with your friends, family, and social media followers. Let them know that going down-free is as easy as (American) pie.