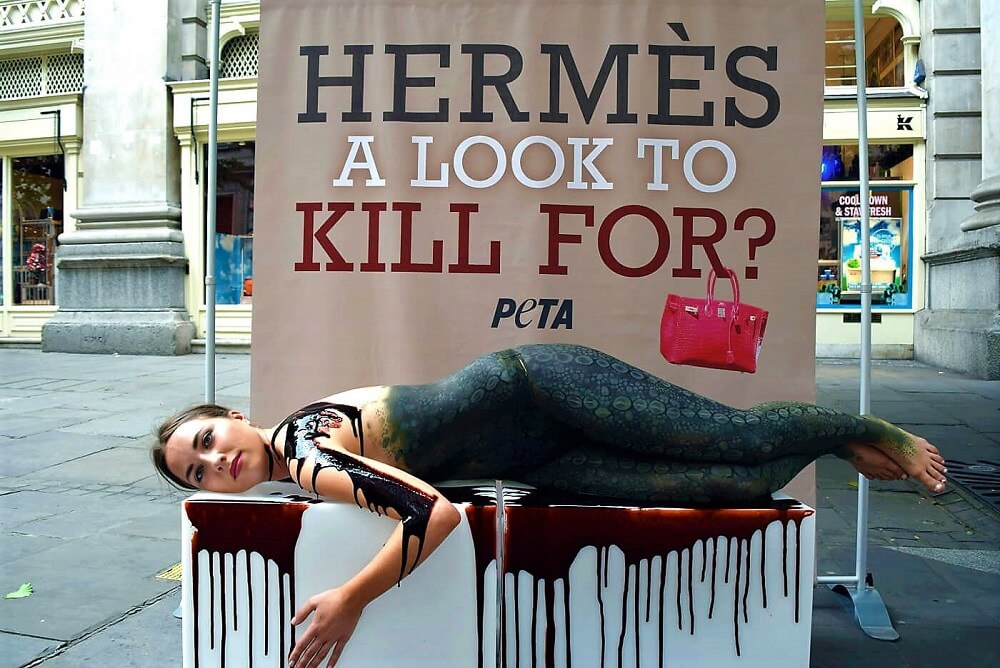 In 2015, a PETA eyewitness exposé showed the world where "exotic skins" really come from. The fashion industry was not ready for the reaction.
Since the investigation was released—revealing that crocodiles used to make "luxury" bags for Hermès were kept in soiled water and that alligators were kept in dank, dark sheds without sunshine, fresh air, clean water, or even basic medical care before being killed—French imports of reptile skin are down more than 30 percent, according to a telling new report in The Wall Street Journal.
Companies including adidas, Adolfo Domínguez, Ann Inc., Arcadia Group (which owns Topshop), ASOS, bebe, H&M, L Brands (which owns Victoria's Secret), MANGO, Nike, Nine West, Overstock.com, and PUMA have banned exotic skins. PETA has become an Hermès shareholder and pressured the company to ditch exotic skins from both the inside—at its annual meetings—and on social media.
Social Goods | PETA became a shareholder in Hermès to confront it about exotic skins https://t.co/MrKj5Yuol7 pic.twitter.com/VEK4jR1qu8

— The Business of Fashion (@BoF) June 9, 2016
SPOTTED in #Luxembourg: Police question a bloody "crocodile" trying to get her skin back from #Hermes. #Killed4Hermes pic.twitter.com/aU3k2z7TAc

— PETA 🐳🐬 (@peta) September 14, 2015
A new generation of consumers is transforming the market for fashion. Today, the way a company acts is just as important as the goods it produces. Customers are willing to pay more for sustainable goods that speak to their conscience—and that, increasingly, means that they're shopping vegan.
It's Not Just Exotic Skins—All Fabrics Made From Animals Are on the Way Out
Using animals for clothing or accessories is a dying business. As people everywhere become more aware of how animals suffer in the fashion industry, companies, fashion design universities, and even entire cities are implementing bans on animal-derived materials.
BREAKING: #SanFrancisco has banned fur! They are the first major US city to ban fur sales. Everyone is realizing that #FurIsDead. https://t.co/eGxJGiZGn2 pic.twitter.com/vHjBbHHu9C

— PETA 🐳🐬 (@peta) March 20, 2018
Fur
Numerous brands and magazines have committed to going fur free.
Donna Karan and DKNY, InStyle magazine, Donatella Versace, Michael Kors and Jimmy Choo, Burlington Coat Factory, and Gucci are just a few.
Some of the companies who have banned fur:
-Gucci
-Versace
-Armani
-Furla
-Calvin Klein
-H&M
-Michael Kors
-Gap
-Zara
-Lacoste
-Ella Moss
-bebe
-Nine West

— PETA 🐳🐬 (@peta) March 15, 2018
Angora
When PETA Asia released shocking eyewitness video footage showing that workers violently rip fur out of angora rabbits' writhing bodies, customers shared the video widely, vowed never to wear angora again, and contacted stores and designers in droves demanding that they stop buying it. Retailers listened, and the list of stores that are making their customers and rabbits happy is now a long one: Over 330 brands have refused to sell angora.
Nearly 300 brands banned angora wool including:
-Anthropologie
-bebe
-Calvin Klein
-Forever 21
-H&M
-Ralph Lauren
-Urban Outfitters
-Zara

— PETA 🐳🐬 (@peta) August 17, 2017
A PETA video exposé of the mohair industry has similarly prompted more than 255 top international retailers—including Topshop, Diane von Furstenberg, Ralph Lauren, H&M, and Forever 21—to ban the cruelly obtained material.
At PETA's urging, legendary fashion house @DVF has joined the more than 240 brands that have pledged not to sell mohair! https://t.co/YVhLd7req7

— PETA 🐳🐬 (@peta) July 19, 2018
One company, ASOS—which sells more than 850 labels as well as its own brand of clothing and accessories—confirmed that it'll also ban cashmere, silk, down, and feathers across its entire platform by the end of January 2019.
Ditch Skins, Fur, Feathers, and All Fabrics Stolen From Animals—Wear Vegan Today!
The future of luxury fashion lies in innovative vegan fabrics. Take, for example, the recent Biodesign Challenge, in which a team from the Universidad de los Andes in Colombia competed for a prize sponsored by PETA and was able to create a sustainable sheep-free wool using coconut and hemp fibers. Other companies are discussing ways to grow leather in labs, while some have already begun making vegan leathers from things like mushrooms, coconut water, and even grapes.
Remember: You don't need to have a big budget to upgrade your wardrobe. Check out our handy "How to Wear Vegan" guide below, and be sure to join the thousands of people calling on Hermès to ditch exotic skins.