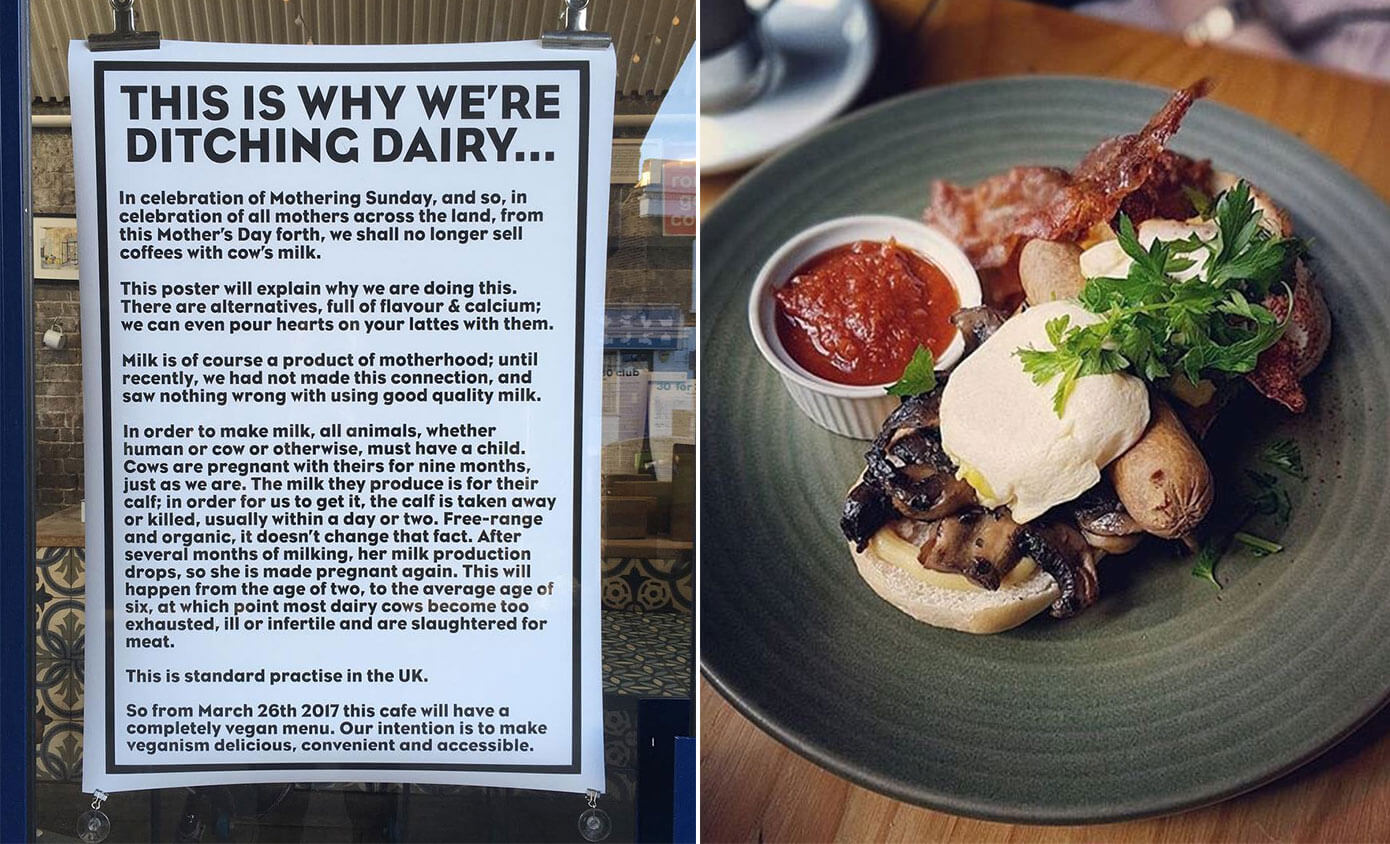 April 20, 2018 | Written by Katherine Sullivan
Folks who have made the switch to vegan eating have found massive amounts of personal success. Some lost weight, others noticed younger-looking or clearer skin, and all were gratified by knowing that they're helping to save animals and the planet. Restaurants are finding similar success. But instead of clear skin, eateries that switch to vegan menus notice improved popularity. Plus, in addition to saving animals and the planet, these establishments are saving on food costs—and gaining sales.
17 restaurants out of 22, confirmed with cold hard cash that their sales increased dramatically. Some as much as 1000%. Whether you're for the animals or not, SBO's should take this intel seriously as a hint on how to keep your business alive! #veganizerhttps://t.co/7pmGZLt3Fn

— TheVeganizers (@TheVeganizers) April 5, 2018
According to Forbes, out of 22 restaurants surveyed that made the switch to 100 percent vegan menus, the 17 that responded reported increased sales—and some saw sales surge by as much as 1,000 percent. The eateries also reported an increase in social media followings—some as much as 15,000 percent. Many also saw a decrease in food costs. Click here to learn more about these now-vegan restaurants, and read on to discover a few of our favorite success stories:
When this restaurant opened in Dallas in 2015, it featured "vegan Thursdays." But in 2016, a customer said it wasn't an option to continue to support a business that continued to serve meat—so El Palote's owners cut meat from the menu the following week. The Mexican restaurant is a family-owned business, and the father—who had a heart condition—went vegan for his health. The rest of the family quickly followed suit. The restaurant's owners say that they didn't put a "vegan" sign on the front door because they prefer to let the food speak for itself. According to Veganizer, El Palote's gross sales increased by 371 percent, while the eatery's social media fame jumped 7,500 percent. And it's clear why—the food is "life changing."
Trevor Evans worked in the mines in Australia for 20 years, but what he really wanted to do was help save animals. In 2004, he opened Secret Creek, and in 2016, the family-run business—which also serves as a popular wedding venue and cake supplier—switched to an all-vegan menu. Since then, the eatery has reported an increase of sales by 153 percent. As if that's not astounding enough, its food costs also decreased by 58 percent.
In 2002, John McCormick and his wife, Vanessa Shanks, opened Café Moto—a chic, cycling-themed bar that featured a nonvegan menu. In 2016, when it came time to renegotiate their lease, they decided to start fresh with a new concept. "You think about how the future can be—how can you lessen your impact … and how can you create an environment where you feel good bringing your child to eat," said Shanks. Thus, Bar Velo was born. The eatery—which now features a 100 percent plant-based menu—has seen a 15 percent increase in sales since making the compassionate switch.
Years after opening a gelatería in 2009, Gelato Blue in Newtown, Australia, opted to serve all-vegan gelato. "Because we are a family business, we treat our customers like family," said the store's manager, Fotini Platis. So in order to accommodate all their customers' desires, the shop switched to serving only plant-based gelato as of 2016—on Easter Saturday, to be exact. Gelato Blue's vegan menu was reportedly the third major plant-based menu to be launched on the same street within a span of six months, proving that the demand for compassionate eats is only rising.
When you think "French cuisine," you may not immediately think "vegan." But Christopher Caron and his mother, Yvette—owner and chef of Délice & Sarrasin in New York City—are changing that. After opening a 99 percent vegan restaurant in 2015, the mother-son duo made the full switch a year later—eliminating cheese from their menu. Since doing so, sales have gone up by 350 percent, while the bistro's social media following skyrocketed 1,200 percent, and it's easy to see why. Everything—from the "steak" tartare to the vegan brie cheese—at the French eatery is Instagram-worthy.
This coffee shop opened in London in 2012. In March 2017, after one employee went vegan, the eatery opted to start switching its menu. According to the establishment's website, "We 'ran out of ham' for weeks before we decided to become more vocal about it. On Mother's Day 2017 we stopped pouring cow's milk into our espresso, signalling the end of animal products in our cafe." Staff members also posted a notice explaining why they'd no longer be serving dairy "products." Less than a month later, The Fields Beneath's Instagram site jumped from 700 to 7,000 followers. According to Forbes, the eatery "also maintained a gross profit of 68% after turning vegan in March 2017."
Australia's first vegan Greek bakery didn't start out vegan. But shortly after opening in 2016, the family-owned establishment decided that the best way to honor a late companion dog was to commit to baking with only plant-derived ingredients, including "[l]ove, care, consciousness and awareness." The effort proved so successful that the family behind the plant-based vegan goods opened a second location—only two months after opening the original one!
When restaurateur Ravi DeRossi announced that he wanted to turn all his restaurants and bars in lower Manhattan and Brooklyn vegan in 2015, he started with Mother of Pearl. It clearly worked—sales increased and food costs dropped. The eatery—which had mainly seen crowds looking to order late-evening drinks—started to get a dinner rush for the first time. Switching to a vegan menu proved to be so successful that DeRossi even closed Bourgeois Pig—a fondue restaurant—and reopened the space as Ladybird, a vegan tapas bar.
Medical doctor Amit Tewari wants "to reduce the costs of vegan food and make it more accessible to the broader population." That's why, in December 2015, he turned his Sydney eatery—Soul Burger—completely vegan. Since doing so, sales have increased 347 percent, while food costs have decreased by 3 percent. Tewari has also opened three more locations throughout Sydney. PETA Australia even featured the eatery for its comedic "Breatharian menu." The burger joint's social media following also rose by 233 percent. Follow it on Instagram to see why:
*****
We must admit—we're not at all surprised by these success stories. Vegan lifestyles are on the rise. Consumers are becoming more and more aware of the benefits of not eating animals, and restaurants are responding in kind.
Have you joined the vegan revolution?
Going vegan is easier than ever before and—as these restaurants prove—a recipe for success. Click the button below to receive a free vegan starter kit packed full of recipes, tips on eating out, and important health information. Going vegan may be easier than ever before, but we're here to make it even easier:
If you're a restaurant owner and want information or tips on switching to a vegan menu, click the button below to contact PETA today!