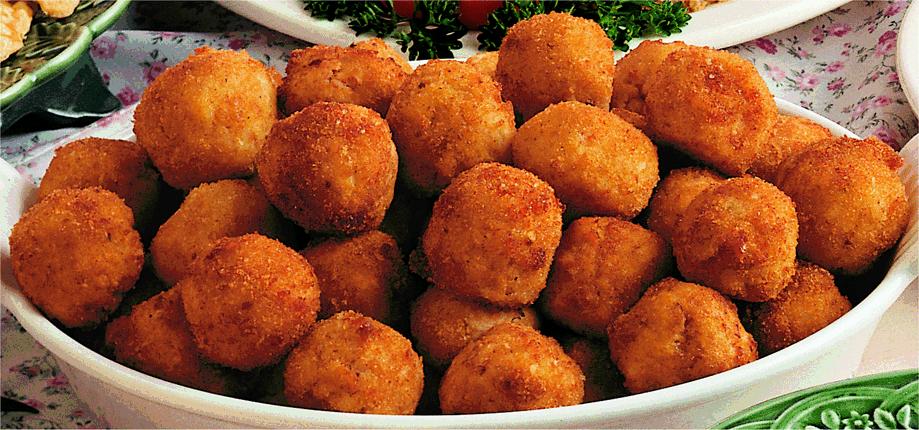 Ingredients:
2-large Eggs, beaten,
1-cup Graham cracker crumbs,
¼-cup Milk,
1-pound Ham, ground & cooked,
1-pound Pork sausage, hot, ground, & uncooked,
1½-cups Apple juice, unsweetened,
⅔-cup Pineapple juice, (fresh is best),
⅔-cup Brown sugar, packed,
½-cup Onion, chopped,
Dash Salt.
Instructions:
Make meatballs, in a large bowl mix eggs, graham cracker crumbs, onions, salt and milk. Add ham and pork; mix well and shape into meatballs. Spray cookie sheet with cooking spray and arrange meatballs in a single layer in pan. Bake at 375° in oven for 20 minutes.
In a 4 quart slow cooker stir together apple juice, pineapple juice and brown sugar. Stir in cooked meatballs into slow cooker. Cover and cook on low heat for 4 hours. Keep warm and serve right away.
Note: This recipe can be substittuted with ground beef, ground turkey or ground chicken if you prefer. To make it a lot spicer just add one to two teaspoons of crushed red pepper or 1 tablespoon powdered jalapeno. If you prefer a little sweeter then increase the brown sugar to one cup. If you don't have graham cracker crumbs available just crush up some graham crackers or some other kind of cookies without filling.
Article Source: http://EzineArticles.com/287266