UN LAB Middleware Label: Title Begins
UN LAB Middleware Label: Title Ends
UN LAB Middleware Label: Description Begins
UN INT Intro Text w/ Responsive Image - *Important Note* You must UNLINK this shared library component before making page-specific customizations.
Earlier this month, bowing to unrelenting pressure from armchair activists who have for years demanded that Norfolk go "no kill" overnight, the city implemented a disastrous new standard operating procedure (SOP) regarding euthanasia at the Norfolk Animal Care and Adoption Center (NACC). The directive was drafted without input from shelter staff or any sheltering professionals, and it required the shelter to obtain approval for euthanasia from an off-site administrator with no expertise or experience in sheltering. When longtime NACC Bureau Manager Barbara Hays declined to sign it because of its hideous ramifications for animals, she was fired.
Now, animals are suffering unnecessarily. Those who aren't adoptable for health or temperament reasons are made to wait for euthanasia, not only adding to their stress but also taking up a kennel that an incoming animal needs. This damaging SOP also requires NACC staff to ask other animal shelters if they can take dogs with dangerous temperaments , putting the animals and our community at serious risk. The city appears unconcerned about anything but stopping "no-kill" advocates from harassing them. Meanwhile, our city shelter is forced to go back down a familiar and dangerous road. Because of pressure from the same "no-kill" advocates in 2007, conditions at NACC became so severely crowded and deplorable that animals were deprived of basic necessities and allowed to suffer and die in filthy cages, which made the city come close to being fined by the state's Department of Agriculture and Consumer Services. Unless every caring soul weighs in, such an inhumane situation could happen again!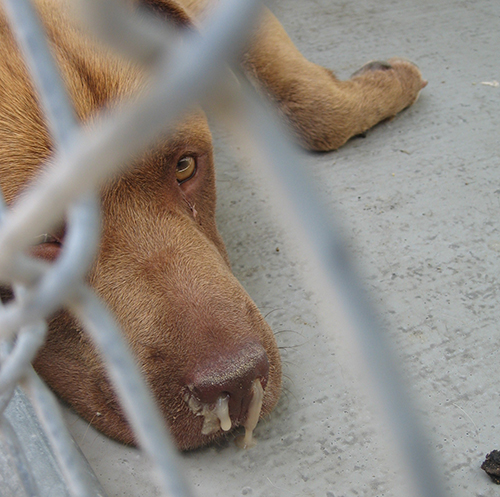 A sick dog named Rocky languishes in a kennel at NACC in 2007, the last time Norfolk officials caved to "no-kill" advocates.
PETA, the Norfolk SPCA, the Virginia Beach SPCA, and the Chesapeake Humane Society contacted Norfolk Mayor Kenneth Alexander, the Norfolk City Council, and the city manager's office numerous times to offer assistance—both before and after the SOP was put in place—to no avail. And on September 25, some 50 people representing the region's private shelters as well as NACC staff, volunteers, foster home caregivers, and supporters spoke eloquently before the council during a public meeting to ask that members immediately rescind the SOP and reinstate the shelter manager. But city officials—some of whom have received campaign contributions for years from the leader of this "no-kill" push—failed to thank, respond to, or even acknowledge the speakers and their passionate pleas. Unbelievably, Council Member Paul Riddick slept through most if not all of the testimonies, and Council Member Angelia Graves spent most of it smiling at and typing on her cell phone.
Our city's animals have been betrayed by these public officials. This is an animal-care crisis, and the animals in our city need your help today.
Please urge the Norfolk mayor, city council members, and city managers to reinstate the sheltering professional they fired, rescind this SOP immediately, keep NACC 100 percent open-admission, trust shelter staff to make decisions about shelter animals' best interests, and involve the professional sheltering community in next steps.
If you live in the city of Norfolk, please be sure to make that clear in your letter. It's most effective to use your own words in the subject line as well as in the body of the e-mail, but feel free to use the template as a guide.