Eat, drink, and be vegan! Celebrate October and all the Oktoberfest merriment by taking things to the next level. In honor of "Voktober," we're challenging folks to make a change that'll benefit animals, the environment, and their own health: Go vegan.
Happy #Voktober! We're challenging everyone to #GoVegan for the month of October to help animals, the environment, & your health ❤️

You don't have to give up anything to go vegan—just try an animal-free version like this #vegan cheese-stuffed jalapeno pretzel! #October1st pic.twitter.com/bImlY30EHL

— PETA ❤️🦊 (@peta) October 1, 2018
And what's October without some delicious German food, right? Luckily, vegan German food is easy to find and make. To make this pretzel, for instance, you need only three ingredients:
1 can Immaculate Baking Company Pretzel Dough or any premade vegan pizza dough
1 cup shredded vegan cheddar cheese
1/2 cup sliced jalapeños, optional
Watch the video below for baking instructions.
Vegan pretzels can also be found at multiple chains. Order Wetzel Bitz—hold the butter—or a Wetzel's Original Pretzel at Wetzel's Pretzels. At Auntie Anne's, the Original, Cinnamon Sugar, Sweet Almond, Garlic, Jalapeño, and Raisin pretzels are all vegan, as long as you specify no butter.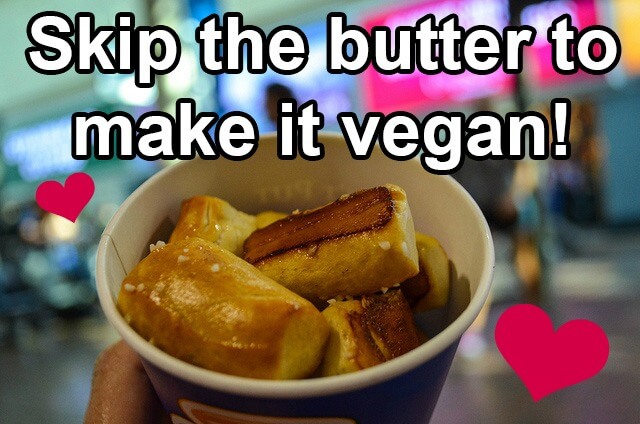 Equally important are sausages. And while traditional German sausages are made using parts of animals who didn't want to be killed for our food, the best sausage option is vegan, and it's all thanks to Beyond Meat. The company—famed for its ever-popular Beyond Burger—recently debuted the Beyond Sausage, a vegan brat that's as delicious as it is kind. Pick up a four-pack at Whole Foods grocery stores—or click here to find Beyond Meat products near you.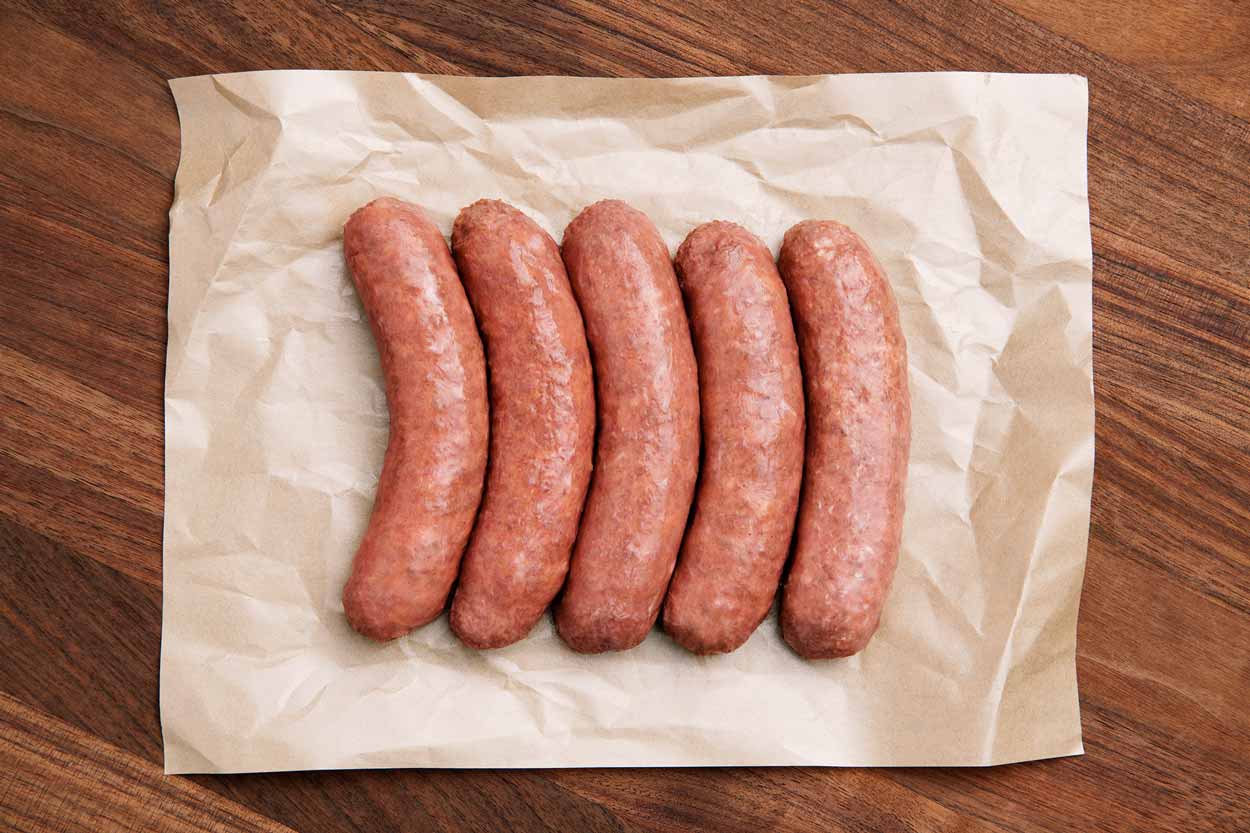 Add a Beyond Sausage to a vegan bun, throw on some sauerkraut, dunk it in mustard, and voilà! You've got a mouthwatering vegan German sausage.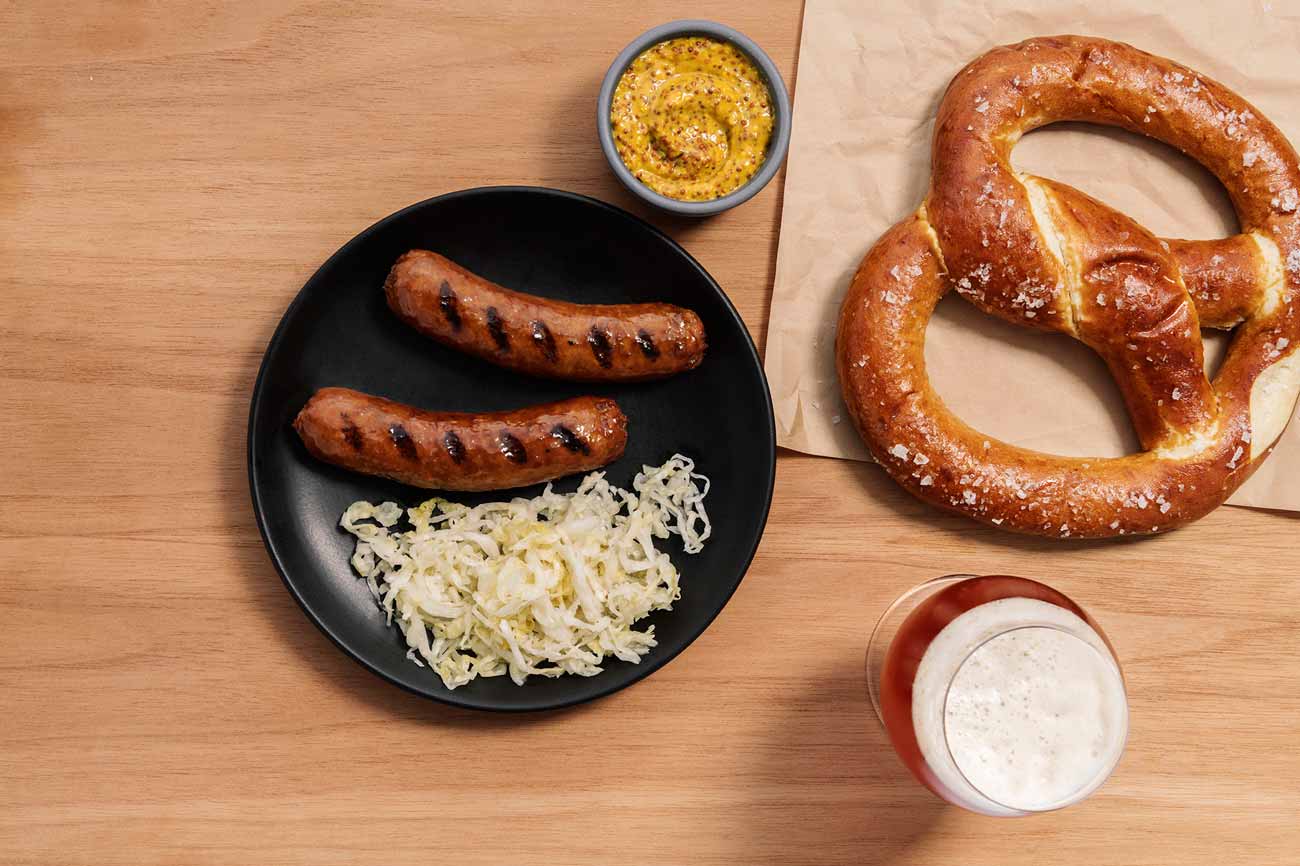 If home cooking isn't really your thing (no judgment), that's OK. You can get your Beyond Sausage fix at any Veggie Grill location as well as at select restaurants in Chicago, Los Angeles, New York City (including at Yankee Stadium), and San Francisco.
For even more Voktober-worthy recipes, visit PETA.org. You'll find recipes for seitan stroganoff, German potato salad, latkes, and more.
Are you in or near Los Angeles or New York City?
If so, you're in luck. Berlin Currywurst offers a delicious vegan tofu sausage. With locations in downtown Los Angeles and New York City's Chelsea Market, this restaurant is making our vegan brat dreams come true from coast to coast.
Wurstküche, a self-described "purveyor of exotic grilled sausage," also has a downtown Los Angeles location as well as one in L.A.'s Venice neighborhood. Best of all, its Veggiewurst is none other than the Beyond Sausage.
Top it off with onions, peppers, and your choice of mustards. Wash it down with a pint of vegan Weihenstephaner Vitus, produced in Freising, Germany.
Speaking of beer …
Did you know that not all beer is vegan? Thankfully, Barnivore has us covered. The database can tell us, for example, that all beers from Paulaner Brewery—even its Oktoberfest Bier—are vegan. So are those from popular German breweries Einbecker, Ayinger, and Augustiner-Braü. Even Samuel Adams Octoberfest is vegan!
So prost to a delicious and merry Voktoberfest celebration. Once you see how easy it is to go vegan during October, we know you'll want to do it for life. Click here to get a free vegan starter kit, and enter your e-mail address below to have weekly vegan tips sent straight to your inbox.