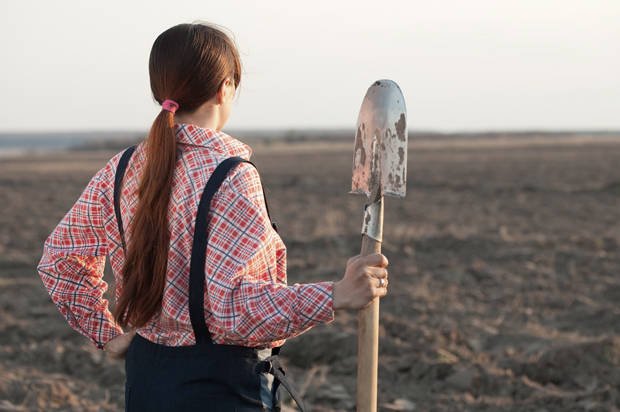 Apparently, it's news to conservative radio host Rush Limbaugh that lesbian-identified farmers exist. And he believes they are a threat to rural America.
On an episode of his show last month, Limbaugh alarmingly quoted from a story from the conservative website The Washington Free Beacon, which trumpeted "Feds Holding Summits for Lesbian Farmers." The headline referenced the U.S. Department of Agriculture's partnership with the National Center for Lesbian Rights on a LGBT-focused #RuralPride initiative and LGBT Rural Summit held in Des Moines.
"What they're trying to do is convince lesbians to become farmers," Limbaugh warned. "Okay, go ahead and laugh at it, but I'm telling you what they're doing. They are trying to bust up one of the last geographically conservative regions in the country; that's rural America."
"I never knew that lesbians wanted to get behind the horse and the plow and start burrowing," his rant continued. "I never knew it. But apparently enough money can make it happen, and the objective here is to attack rural states."
Of course, queer people are not confined to living in cities and many, including a number of lesbians, are already farming. Some have been at it for years. (There is no official estimate of how many queer people are currently farming in America as the government does not track such data.)
So why does Limbaugh's 'warning' matter? Because the average age of U.S. farmers continues to rise and many of those famers lack family members who will take over their businesses when they retire. The nation's farmland, then, needs someone to take up the reins. So, why not queers?
In an effort to celebrate and recognize the lesbian farmers of America, HuffPost Queer Voices reached out to a number of them. These are their stories.
"It doesn't matter that I just happen to be a lesbian."
Liz Graznak is the owner of Happy Hollow Farm in Jamestown, a central Missouri town that's about a 45-minute drive outside of Columbia.
Graznak oversees everything that takes place on her thriving, 7-acre certified organic vegetable farm, which is currently in its seventh year. That work includes taking part in farmers' markets 52 weeks a year, running a community-supported agriculture (CSA) program every harvest season and selling produce to local grocery stores and restaurants.
The farmer, who also heads up the Missouri Young Farmers Coalition, doesn't have much in the way of free time and hadn't read Limbaugh's comments. She doesn't plan to. She knows his argument rings hollow when compared to her own experience, which has been defined by a community that has embraced her, her business and her family, including her wife Katie and daughter Sylvia.
"This is a big ole red state, but I know that my neighbors respect me and think I'm doing great things," Graznak said. "They see that I'm a hard worker and a kind person and that I employ people and buy things in the local town and put my money in the local bank and I have a lot of friends in this community. We're farming and we're growing food and we're feeding people, and it doesn't matter that I just happen to be a lesbian."
She added that she wouldn't trade the farming life for anything.
"I'm very proud of what I do," Graznak told HuffPost. "I'm active, I'm outside, I'm engaged in this great learning opportunity for all these people that come out to the farm. I'm feeding people and I get to live in a really beautiful place."
"This is an opportunity to move the United States agricultural movement in a more representational, beneficial direction."
Michaela Hayes is one of the four women who lead Rise and Root Farm, 3 acres of farmland in the small village of Chester in New York's Hudson Valley.
The four women, Hayes' wife Jane Hodge among them, met while working with the non-profit organization Just Food in the South Bronx and are in their second season of growing vegetables, herbs and flowers using organic methods.
Hayes says she was attracted to farming because of its "amazing capacity to be a tool of healing," and that's something she wants to bring to spread to more people by allowing visitors to come up to their farm, get their hands in the soil and connect with where their food comes from.
She's seen firsthand the impact it has on Rise and Root's visitors.
"It's incredibly transformative for people to get out in the soil, touch the plants and listen to the frogs and the birds and seeing the bees and insects that are here," Hayes said.
The women see themselves as having an impact, too, on the typical demographics of the farming industry — typically male and overwhelmingly white. It's an impact that is long overdue.
"We're an intergenerational farm. We're gay and we're straight, we're black and we're white, so we have all these difficult conversations about social structures and who has access to what and how," Hayes continued. "This is an opportunity to move the United States agricultural movement in a more representational, beneficial direction."
"The population of rural America is way more open-minded than [Limbaugh] seems to think."
Courtney Skeeba always dreamed of having her own land, living in the country and making her own food. And in 2001, through the Homestead Ranch, she realized that dream.
Alongside her wife and son, Skeeba operates her small ranch in Lecompton, Kansas, as a sustainable goat farm, selling soaps, creams, shampoos and other products derived from their milk.
Skeeba says she loves "being able to sustain life without relying on having to buy something." But with that perk comes a lot of downsides.
"Not everything is sunshine and rainbows," she told HuffPost. "Sometimes, when it's three-o'clock in the morning and it's below zero and you're trying to catch baby [goats] so they don't freeze to death, you ask why you're doing what you're doing."
Another benefit that makes sleepless nights worthwhile is the close bond they've developed with the community members they see every week at the Lawrence, Kansas farmers' market.
Though Skeeba wasn't initially sure how she and her family would be received by their more conservative peers, she said any trepidations she had wore off pretty quickly.
"The population of rural America is way more open-minded than [Limbaugh] seems to think," Skeeba said. "Farming or just living in a rural setting is a community-based lifestyle and I think anyone that is open to that community is welcomed. It transcends any sort of orientation."
"We have developed our prosperity and are working to help spread it throughout our challenged community."
Of course, queer people aren't just farming in the country. They're also farming in cities, too. Kay Grimm and Sue Spicer are at the helm of Fruit Loop Acres, a permaculture fruit farm on the near east side of Indianapolis, Indiana.
Their farm started in 1994 as four adjacent city lots and has since grown to almost three-quarters of an acre, plus about 2 more acres of scattered-site farmland.
They are working to increase the amount of locally-grown, healthy food available to their neighborhood, an economically struggling food desert. When their black raspberries and tart cherries are in season, the farm is open for you-pick appointments, and they also sell their fruits to local restaurants.
Their mission has since expanded to include their Basic Roots Community Foods delivery service, for which the couple partners with other local growers. The service has been in operation since 2005.
"We have developed our prosperity and are working to help spread it throughout our challenged community," Spicer told HuffPost.
The two consider the land they have nourished all these years a "living history of the Indiana ecosystem" in how it showcases varieties of fruits, nuts and plants that have been native to the region for many centuries. They hope it will be around for a long time to come.
Joseph Erbentraut covers promising innovations and challenges in the areas of food and water. In addition, Erbentraut explores the evolving ways Americans are identifying and defining themselves.