UN LAB Middleware Label: Title Begins
UN LAB Middleware Label: Title Ends
UN LAB Middleware Label: Description Begins
UN INT Intro Text w/ Responsive Image - *Important Note* You must UNLINK this shared library component before making page-specific customizations.
Collectively, Vince Covino and his company, SeaQuest, have an alarming history that includes not only enforcement actions from a state finance department, a state wildlife agency, and a state agriculture department but also allegations of serious animal neglect. Yet several malls have ignored the facts and allowed SeaQuest aquariums to move in. Others, unphased by the reports of animal mistreatment at recently opened SeaQuest exhibits, are going forward with plans for new aquariums.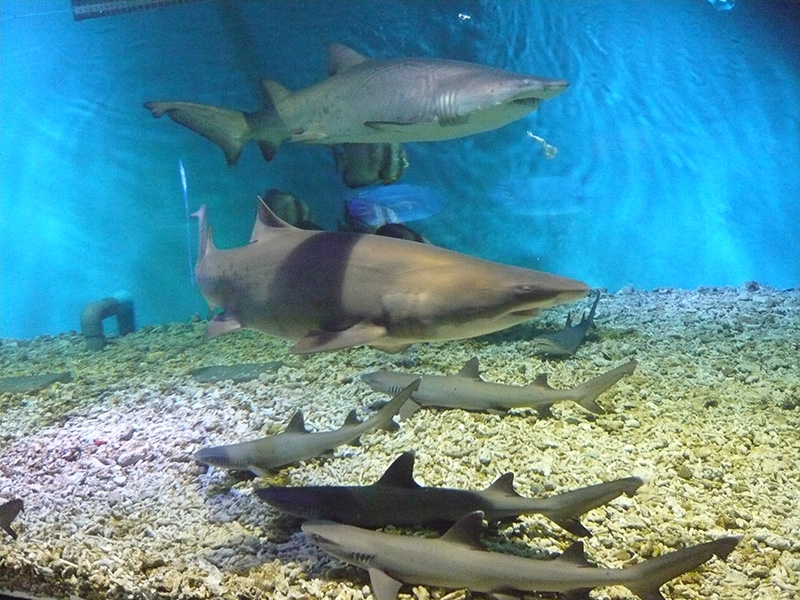 At the now-closed Portland Aquarium owned by Vince and his brother, Ammon, more than 200 animals reportedly died over the course of three months—many allegedly from starvation, infections, and other seemingly preventable causes.
In 2017, Vince was fined $5,000 by the Idaho Department of Finance after failing to reveal a prior securities related disciplinary fine and suspension to potential investors. Ammon has served multiple stints in prison for probation violations related to a felony wildlife trafficking conviction. One of those stints was because he was involved in the opening of SeaQuest aquariums in Utah and Nevada, violating the terms of his probation, which prohibited him from taking part in any activity related to the possession, display, purchase, or sale of marine life.
And the problems don't end there. At SeaQuest's Littleton, Colorado location, the company failed multiple licensing inspections, during which Colorado Department of Agriculture authorities found birds kept in makeshift or dangerous cages. When SeaQuest's permit to operate was denied, it went ahead and opened anyway. When it was caught, it reportedly tried to circumvent permitting requirements by giving away 80 birds to a teenage employee, leaving the teen in the middle of a media firestorm and local controversy. News reports indicate that the employee and his family then advertised the animals online and reportedly gave them away for free in a Lowe's parking lot.
SeaQuest was also fined by the Colorado Parks and Wildlife department for reportedly importing three mammals into the state without permits. Pictures from a citation report show a capybara and a two-toed sloth residing in the basement of a SeaQuest manager's home. The aquarium then allegedly put these animals on display, despite lacking the authorization to do so.
Last spring, former employees of the company's Las Vegas aquarium came forward with reports of animal neglect there. One said that he saw "hundreds of animals" die. The Las Vegas Metropolitan Police Department's Animal Cruelty Unit investigated SeaQuest following other complaints and found violations.
Interesting moment in Las #Vegas for #ClarkCounty Animal Control. A capybara (largest rodent in the world) got loose while being transported to a veterinarian. Here is video of it being captured in the Boulevard Mall parking lot. The animal is owned by the SeaQuest Aquarium. pic.twitter.com/7UEE8W6LlV

— Clark County Nevada (@ClarkCountyNV)
October 23, 2018
Despite learning all this, malls are still getting involved with SeaQuest. Please take a moment to express to the managers of the following malls your disappointment over their support of SeaQuest aquariums, where animals may be subjected to harassment and potential harm:
The Boulevard Mall in Las Vegas
The Galleria at Fort Lauderdale in Fort Lauderdale, Florida
Layton Hills Mall in Layton, Utah
Palladio at Broadstone in Folsom, California
Ridgmar Mall in Fort Worth, Texas
Rosedale Center in Roseville, Minnesota
Southwest Plaza in Littleton, Colorado
Westfield Trumbull in Trumbull, Connecticut
Westfield Sunrise in Massapequa, New York
Woodbridge Center in Woodbridge, New Jersey