UN LAB Middleware Label: Title Begins
UN LAB Middleware Label: Title Ends
UN LAB Middleware Label: Description Begins
UN INT Intro Text w/ Responsive Image - *Important Note* You must UNLINK this shared library component before making page-specific customizations.
This sponsorship needs to be stopped in its tracks.
Five dogs died during the 2017 Iditarod, and 350 were pulled out of the 2018 race, likely because of exhaustion, illness, or injury. One of those dogs, Blonde, later died, probably from choking to death on his own vomit after being forced to run excessively hard—which is the leading cause of death for dogs who die during the Iditarod.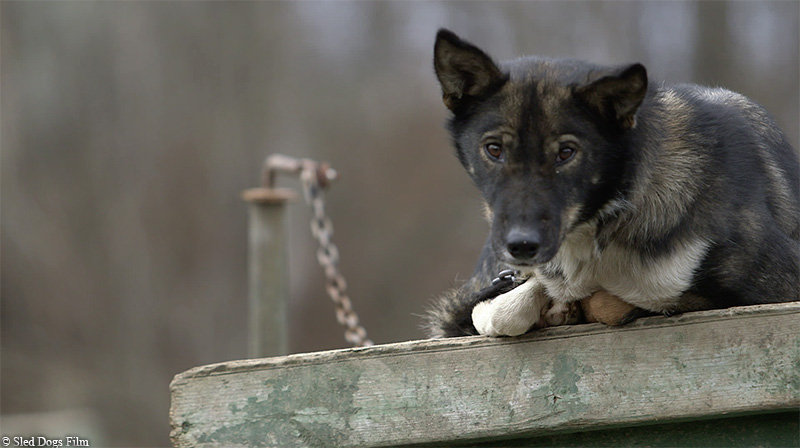 © Sled Dogs Film
More than 150 dogs have been killed in the race's history—and that's not even counting all those who died during training, immediately after the race, or while languishing on a short chain during the off-season or were killed by their own handlers because they didn't make the cut.
Dogs in the Iditarod are forced to run nearly 1,000 miles—roughly the distance from Orlando, Florida, to New York City—in under two weeks. On average, they must run 100 miles a day, with only a few brief periods of rest. They're subjected to biting winds, blinding snowstorms, and subzero temperatures. Their feet may become bruised, bloodied, cut by ice, and worn out because of the vast distances that they cover. Many pull muscles, incur stress fractures, or are afflicted with diarrhea, dehydration, intestinal viruses, or aspiration pneumonia. Up to half of the dogs who start the race don't even finish.
After hearing from more than 186,000 PETA members and supporters and being the target of public protests for more than a year, Jack Daniel's ended its 15-year sponsorship of the Iditarod. Anchorage Distillery has shamefully taken its place.
Guggenheim Partners, Wells Fargo, and State Farm ended their Iditarod sponsorships. Many other major brands—including Costco, Maxwell House, Nestlé, Pizza Hut, Rite Aid, and Safeway—cut ties with the race years ago. Please join PETA in urging Anchorage Distillery to end its association with this abusive race in which dogs are run to their deaths.