UN LAB Middleware Label: Title Begins
UN LAB Middleware Label: Title Ends
UN LAB Middleware Label: Description Begins
UN INT Intro Text w/ Responsive Image - *Important Note* You must UNLINK this shared library component before making page-specific customizations.
Update: Tom Frieden—who was the director of the Centers for Disease Control and Prevention (CDC) when egregious incidents of neglect and incompetence took place that resulted in the suffering and death of monkeys, prairie dogs, mice, and other animals—has just been charged with third-degree sexual abuse, forcible touching, and harassment of a woman.
Frieden is being forced to deal with these allegations, but he has yet to answer for a long list of atrocities committed at the CDC under his watch. These include incidents in which monkeys sustained third-degree burns over their arms and backs, prairie dogs died after becoming stuck in a floor drain, and mice were painfully asphyxiated after the ventilation pump to their enclosure was turned off.
Take action below to demand that the U.S. Department of Health and Human Services investigate the CDC's laboratories.
The Centers for Disease Control and Prevention (CDC)—which imprisons thousands of animals—has a long history of violating federal animal welfare laws and guidelines. Not long ago, PETA released disturbing leaked photos of monkeys at CDC labs who suffered third-degree burns over their arms and backs as a result of incompetence and negligence. We obtained documents showing, among other abuses, that when CDC employees failed to monitor an owl monkey who had undergone experimental surgery, the distressed monkey pulled out the sutures and her intestines spilled out of the wound. Eventually, she stopped breathing.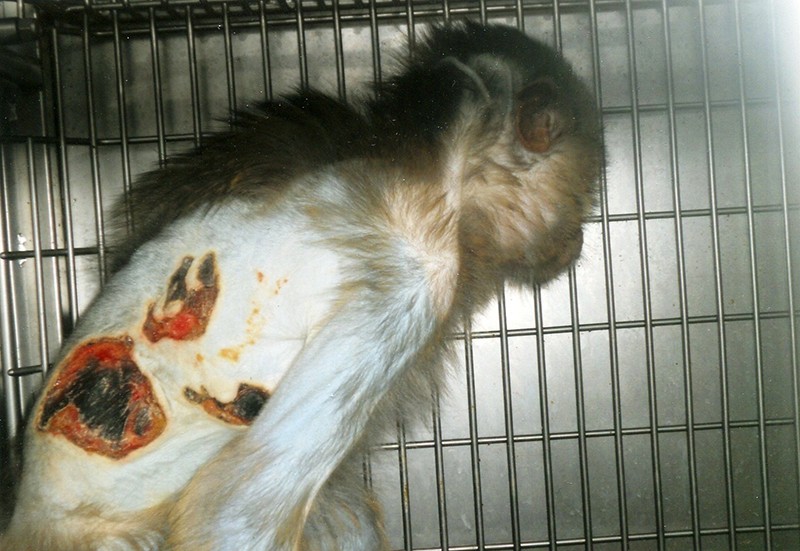 Now, PETA has received more government reports documenting glaring incompetence and gross mistreatment in the CDC's laboratories—leading to immense suffering and cruel deaths for animals, including incidents in which:
Fifteen mice died or had to be euthanized after they were placed in cages that were still hot from high-temperature sterilization equipment. The mice were reported as showing "increased salivation" and "signs of distress due to hyperthermia."
A calf died of hypothermia in a barn that was known to have a malfunctioning heater.
A pigtail macaque monkey was either inadvertently inoculated with simian-human immunodeficiency or acquired the infection from a positive animal. It was not known which.
On two separate occasions, prairie dogs died after becoming stuck in an unsecured floor drain.
Five mice died painfully of asphyxiation after the ventilation pump to their enclosure was turned off.
Two ferrets and 40 mice were inoculated with an H9N2 virus, which was later confirmed to be contaminated with the highly contagious H5N1 bird flu virus. The animals were all killed.
During a viral study using embryonated eggs, 17 eggs were inadvertently allowed to hatch. All of the chicks were killed.
The new revelations follow more than a decade of documented problems of abuse, neglect, and incompetence in the CDC's laboratories. The CDC has an annual budget that exceeds $6 billion, with more than $500 million earmarked for "monitoring health and ensuring laboratory excellence." In contrast to other laboratories that use animals covered under federal regulations, government laboratories—like those operated by the CDC—are not subject to federal inspections. The CDC's lack of accountability has resulted in egregious suffering for animals and perilous working conditions for employees.
Please join PETA in urging the federal government to investigate the CDC's laboratories.
Putting your subject line and letter into your own words will help draw attention to your e-mail.