UN LAB Middleware Label: Title Begins
UN LAB Middleware Label: Title Ends
UN LAB Middleware Label: Description Begins
UN INT Intro Text w/ Responsive Image - *Important Note* You must UNLINK this shared library component before making page-specific customizations.
PETA needs your help to persuade the Frederick Keys baseball team in Frederick, Maryland, to cancel its plans to feature a "cowboy monkey rodeo" at games on June 15 and 16. During these cruel events, capuchin monkeys are dressed in rodeo costumes and forced to ride dogs who race around a field, sometimes "herding" sheep. These are loud, chaotic events, and by nature, capuchin monkeys are quiet, sensitive animals. In the wild, they spend most of their time more than 100 feet off the ground in the dense forests of Central and South America. "Rodeo life" is completely unnatural for them—as well as dangerous. They're especially vulnerable to neck injuries, such as whiplash, which can easily occur when they're subjected to repetitive high-speed accelerations on the backs of dogs who run up to 30 mph. The dogs may also inadvertently knock the monkeys against hard objects, such as walls, fences, and poles.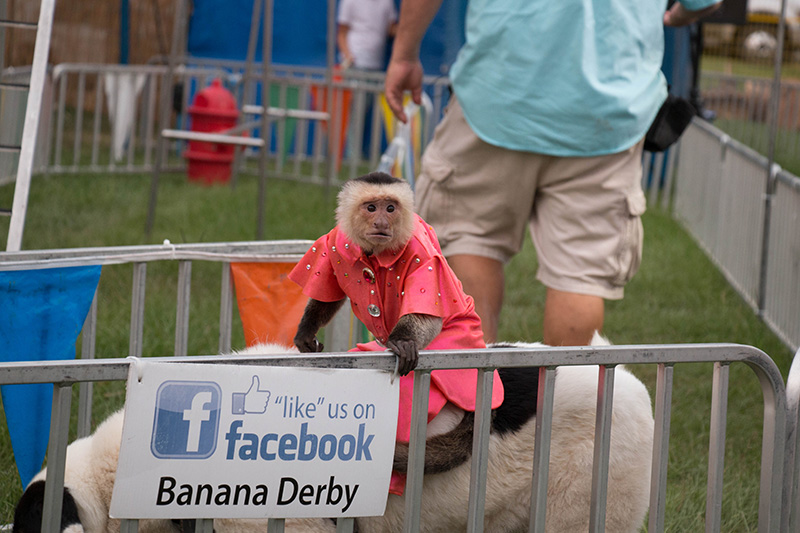 PETA asked several primatologists and veterinarians to review videos of monkeys "performing" during these rodeo-style stunts. They reported that the animals exhibited signs of fear and anxiety and—saddest of all—showed a blank expression of resignation, indicating that they're suffering from a condition that psychologists refer to as "learned helplessness."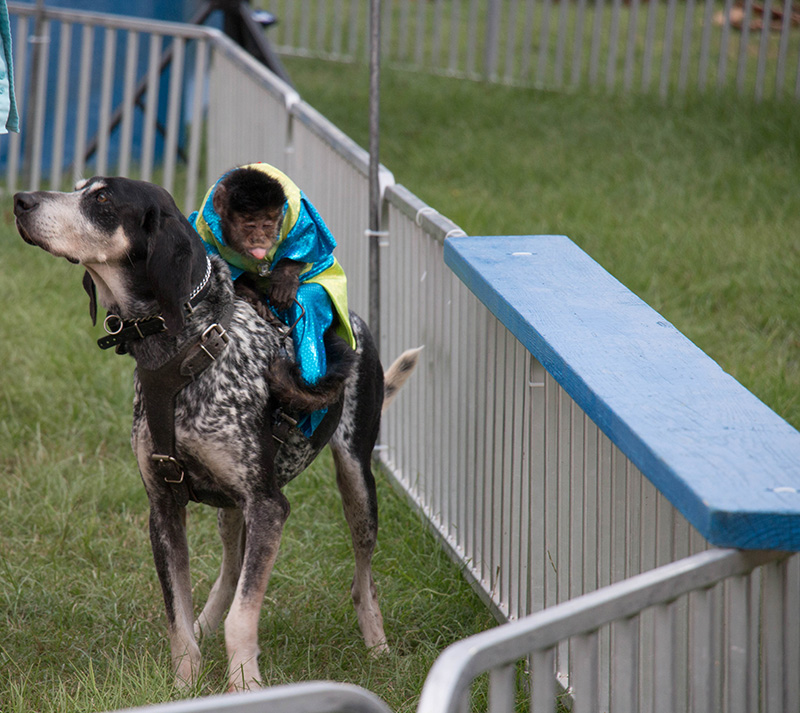 Tim Lepard of Wild Thang Productions, whose act performs under the name "Team Ghost Riders," is scheduled to supply the animals for the events at the upcoming games. Lepard has been cited numerous times by the U.S. Department of Agriculture for violating the federal Animal Welfare Act, including by failing to provide animals with adequate shelter and sanitary living conditions, failing to provide adequate crowd management and safety barriers, failing to store food properly and dispose of expired medications, and repeatedly failing to be available for inspections.
Displaying monkeys and other wild animals at public venues is extremely stressful for the animals and is never in their best interests. Please send a polite letter to the Frederick Keys general manager urging him not to host this cruel event at any of the team's games.