Vegan desserts are taking over Ben & Jerry's menu, and we couldn't be happier about it. People get it: Not only is cow's milk bad for human health, it's also even worse for the cows used in its production. As the demand for vegan items grows, Ben & Jerry's continues to make our wildest dreams come true. Read on to get the full scoop.
1. Ice Cream Cakes
The rumors are true: Vegan ice cream cakes are available at participating Ben & Jerry's Scoop Shops. The dairy-free cakes are made with the brand's nondairy frozen desserts—current flavor options include Caramel Almond Brittle and Coconut Almond Fudge Chip. The middle and bottom of the cake are made with your choice of vegan ingredients, such as delicious chocolate sandwich cookie crumbles. Vegan frosting covers the cake and holds all the goodness together.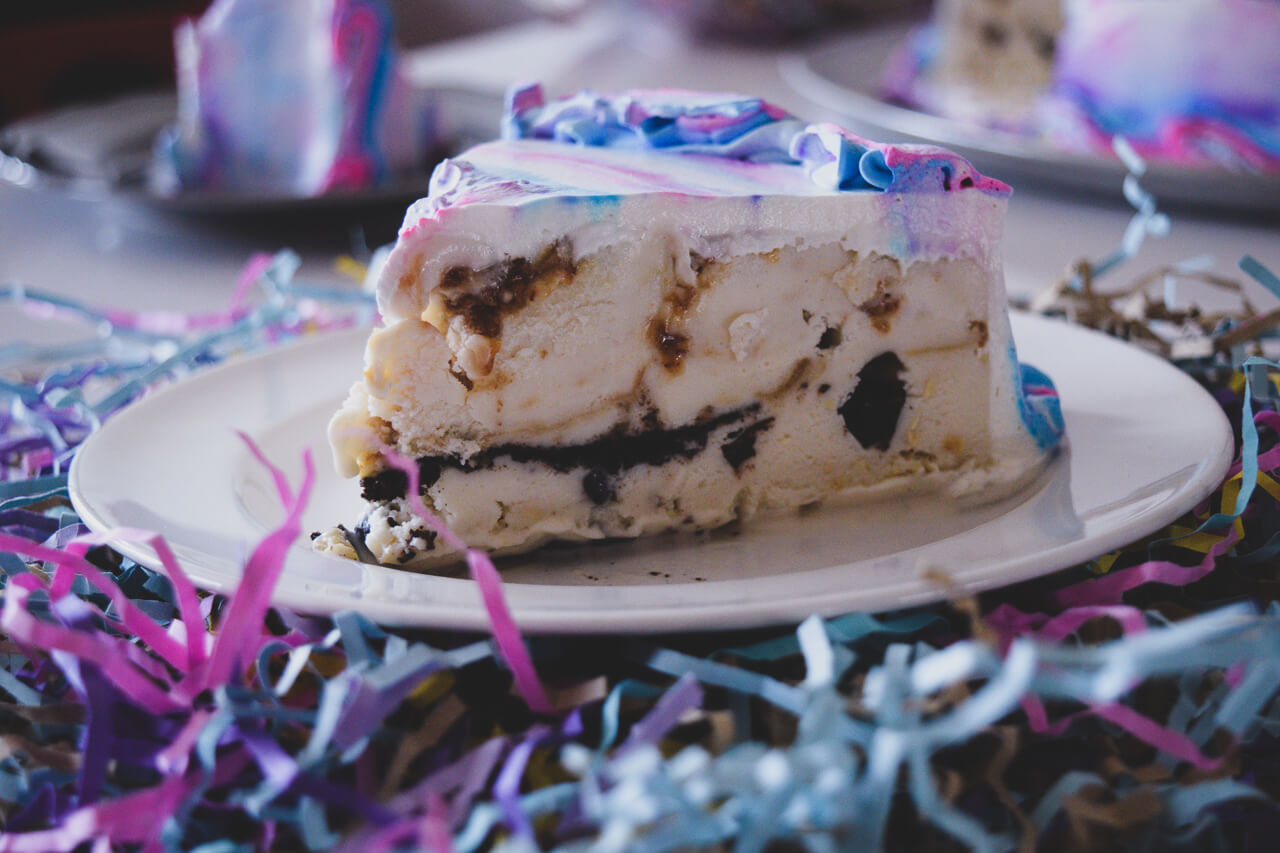 2. Almond Milk Shakes
What do you get when you combine almond milk with one of Ben & Jerry's nondairy frozen desserts? A delicious vegan milkshake! Ask at your local scoop shop if you can get almond milk, then choose a vegan ice cream flavor—and voilà. If your local shop doesn't carry almond milk, politely ask that it start doing so.
3. Pints
Ben & Jerry's nondairy frozen pints can be found in supermarkets and select scoop shops across the country. Flavors include Cinnamon Buns, Peanut Butter Half Baked, Caramel Almond Brittle, Cherry Garcia, Chocolate Fudge Brownie, Chunky Monkey, Coconut Seven Layer Bar, Coffee Caramel Fudge, and P.B. & Cookies. PETA even presented Ben & Jerry's with its Proggy Award in recognition of the brand's innovative and animal-friendly achievements.
Love our Non-Dairy flavors? We have three new ones just for you. Get the details at https://t.co/TmmmoZJ1Z8 #Vegan pic.twitter.com/WruvDTy8rm

— Ben & Jerry's (@benandjerrys) February 15, 2017
4. Scoops
After vegan pints were introduced, vegan scoops became available in select Ben & Jerry's shops nationwide. Check your local shop for Chunky Monkey, Chocolate Fudge Brownie, P.B. & Cookies, and Coffee Caramel Fudge.
*****
If your local Ben & Jerry's scoop shop doesn't carry vegan frosting, almond milk, or other animal-free items, call and politely ask that it start doing so. Click here to find a shop near you.
Ben & Jerry's isn't alone. Find out where else you can find nondairy ice cream pints and vegan scoops. And remember: Desserts—including even vegan ones—should always be consumed in moderation. The same goes for these delicious vegan frozen yogurt flavors, which you should check out immediately.