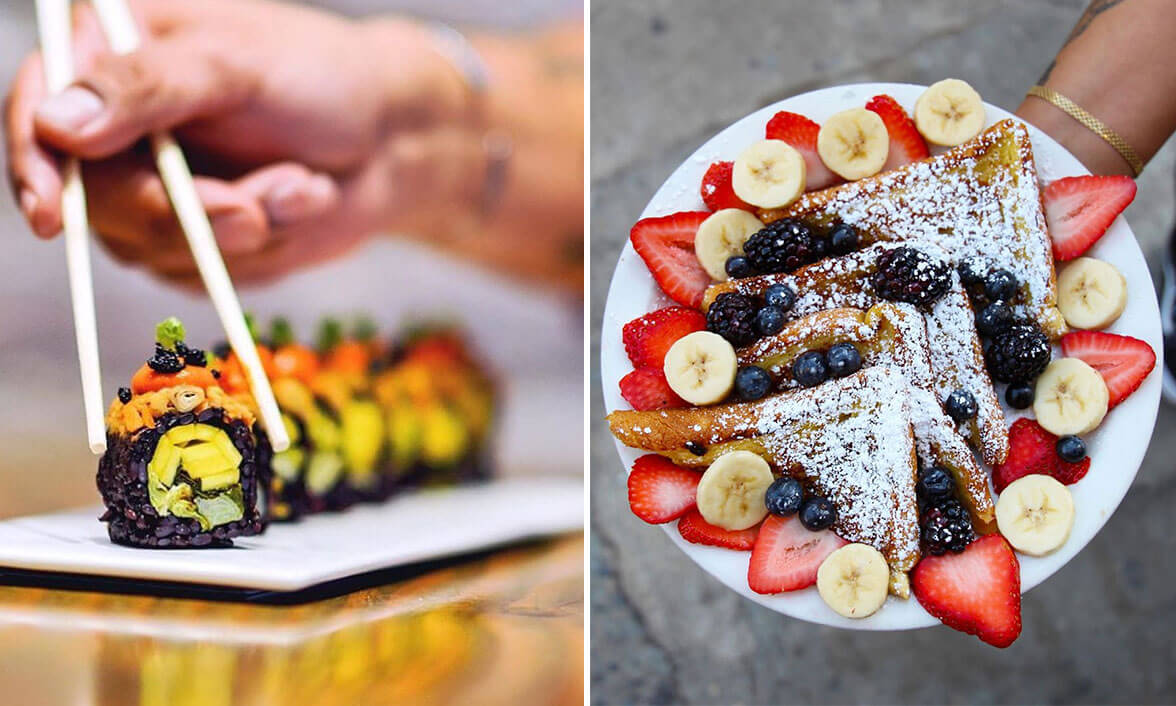 Written by Katherine Sullivan | January 23, 2018
In New York City, vegan options are plentiful. If you're wondering what the must-try vegan hot spots are in the Big Apple, take a look at a few of our favorites:
For somewhere a bit swankier, try Avant Garden. Aside from having an adorable name, the East Village restaurant offers vegan fine dining at its best. Click here to make reservations.
If it's sushi that you're after, head to a Beyond Sushi restaurant (the all-vegan eatery has five NYC locations). Our favorite menu items include the "Smokey Tom" dumpling, the "Chic Pea" roll, and the "Nutty Buddy" rice paper wrap.
With locations in Chelsea and the Upper West Side, Blossom Restaurant is an ideal choice for any vegan (or nonvegan). Stop in for lunch, brunch, dinner, dessert, beer, or wine—and don't worry: It's all vegan all the time!
If you're looking for quality vegan food that's also gluten-free, look no further than Candle 79. The upscale Upper East Side eatery has it all—Avocado-Tomato Tartare, a grilled kale salad, a black bean–pumpkin seed burger, and house-made ice cream and sorbet. If you're looking for a more relaxed atmosphere, check out Candle West or Candle Cafe.
If you're in the East Village, Caravan of Dreams is a must-try. Choose from dine-in, takeout, or delivery—just be sure that you try the mouthwateringly delicious portobello mushroom burger:
Brooklyn's favorite all-vegan diner is a must-try. The menu features classic American comfort food—think Mac N Cheese, Mozzarella Sticks, Chik'n & Waffles, Breakfast Enchiladas, pancakes, French toast, shakes, and sundaes—and it's all vegan.
Vegan food trucks rarely disappoint, and The Cinnamon Snail is no exception. Follow the company on Instagram to find out when and where you can get the "[a]bsurdly yummy vegan" fare, like this balsamic fig grilled French lentil burger:
Don't panic—whether you're in Manhattan or Brooklyn, you're not far from a Dun-Well Donuts. And whether you're ordering a Mac & Cheese Doughnut, a Horchatta Latte, or a Fireball Whiskey Ice Cream, rest assured—it's all vegan.
In search of reasonably priced, delicious burgers and fries? Marty's V Burger has you covered. Visit the restaurant, or order on Grubhub.
If you need to do a little food shopping in NYC, head to May Wah. This quaint Asian-themed market is your one-stop shop for vegan groceries in the city.
If "swanky vegan comfort food" sounds like your cup of tea, head over to Brooklyn and check out Modern Love. Menu options include Braised Purple Potatoes, a Mushroom Brie Burger, Pesto Burrata Gnocchi, and Banana Cappuccino Cheesecake With Sour Cream Frosting. Are you drooling yet?
According to the all-vegan eatery, it's "named after the simple idea that peace begins on your plate," and we couldn't agree more. Whether you're craving sweet or savory, this kitchen and bakery, with locations on the Upper West Side and Union Square, is sure to satisfy. Click here to check out the menu.
Did someone say, "Beyond Burger"? That's right—Midtown Manhattan's P.S. Kitchen offers the PS Burger, made with a Beyond Meat patty, plant-based Thousand Island dressing, and homemade queso.
The food at Red Bamboo is as delicious as it is beautiful. The Greenwich Village eatery offers "vegan global cuisine," including Cajun Fried Shrimp, a Chicken Gyro, a Philly Cheese Steak, Chicken Parmesan, Garlic Fried Rice, and more. Click here to order online.
Craving late-night comfort foods? Seasoned Vegan has you covered. Choose from a Pizza Quesadilla, Stuffed Avocado, Lemon Crusted "Chicken" Nuggets, a Harlem Chopped "Cheeseburger," and more. If you're visiting New York, don't miss out on your chance to visit Harlem's first all-vegan restaurant.
The menu at Terri offers delicious diner foods with a healthy vegan flare. Try the Chickpea Tuna Melt, the Philly Cheesesteak, the Breakfast Slam, or one of the many smoothies. Visit a location in Chelsea, the Financial District, or Midtown East.
Interested in some "[s]emi-sophisticated comfort food" that's 100 percent vegan? Look no further than Urban Vegan Kitchen. Located in the West Village, it offers brunch, dinner, cocktails, and desserts—all vegan and all delicious. Visit the website to make a reservation, or order delivery using UberEats, DoorDash, or Grubhub.
If you're looking for somewhere fast, easy, and delicious, check out VLife NYC. The small eatery offers yummy burgers, sandwiches, smoothies, and more. It's perfect for a vegan lunch on the go.
Animals have personalities. They play, learn, and think—and they don't deserve to be served for dinner, in New York City or anywhere else.
Booking a weekend getaway? Planning an exotic vacation? Click the button below to get vegan-trip tips, and we promise that you'll be living like vegan royalty all around the globe. And don't forget to check out our vegan airport survival guide, too!
Whether you're traveling or staying home, going vegan is more doable than ever, thanks to PETA's vegan starter kit. Click the button below to request a free copy, and gain access to recipes, tips on making the compassionate switch, and so much more.